2 hr 7 min ago
US President Biden is receiving regular updates on Ukraine today 
From CNN's Arlette Saenz and Sam Fossum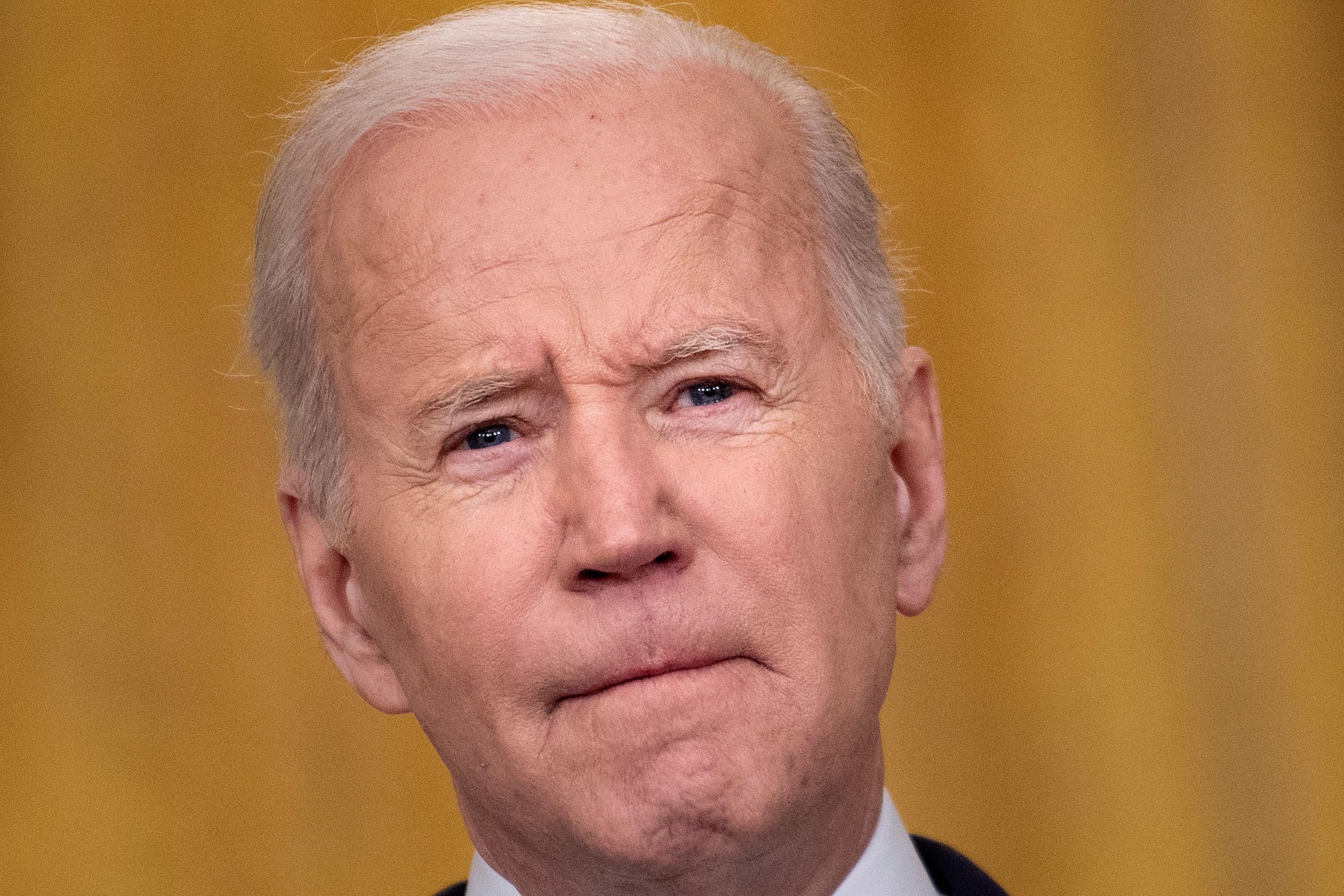 US President Joe Biden is receiving regular updates on the evolving situation in Ukraine, according to a White House official.
Biden has been speaking with his national security team regularly, the White House official said.
2 hr 12 min ago
Ukrainian ambassador to the US says they are ready for talks, "but we are not ready to surrender"
From CNN's Sarah Fortinsky
Ukrainian Ambassador to the US Oksana Markarova told CNN's Dana Bash that Ukrainian President Volodymyr Zelensky will "definitely not" be part of the delegation attending talks with Russia, saying Zelensky is in Ukraine defending the country.
Markarova called on the Russian president to stop the war, and said that Ukraine would send people to the talks. She added that Ukraine is always ready for talks, "but we are not ready to surrender. And we will defend our country, and we will win."
Asked whether she thinks Russia is genuine in extending this olive branch, Markarova said, "There is an ongoing, full-fledged war with war crimes conducted by Russians in Ukraine on a daily basis. So how genuine is this proposal? We don't know."
On Putin putting deterrence force, including nuclear weapons, on high alert, Markarova said, "This is yet one more example of a terrorist behavior of Russia. They attacked our country. They are scaring everyone."
2 hr 6 min ago
Ukrainian woman recounts decision to escape from Kyiv
From CNN's Oleksandra Ochman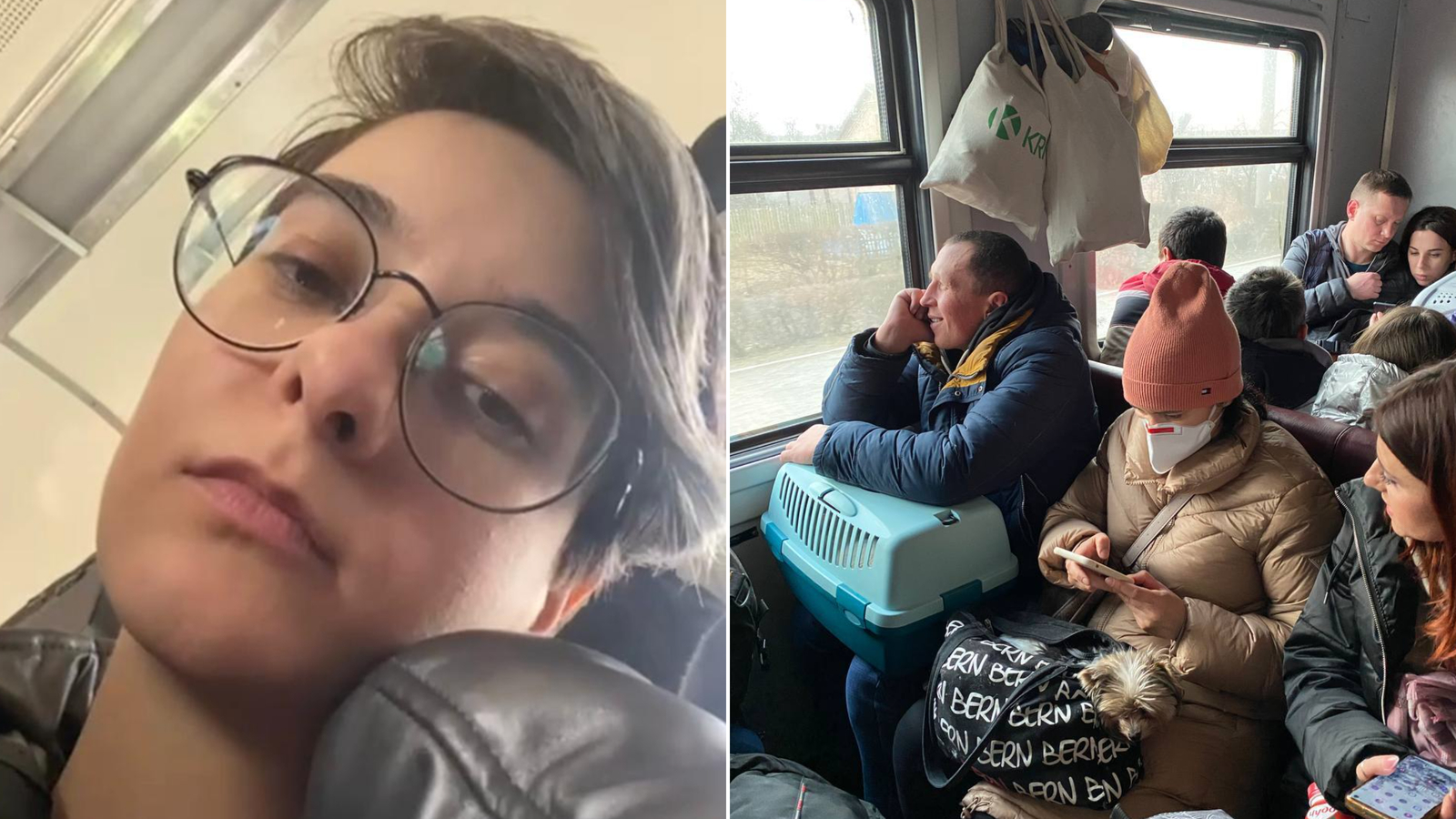 Diana Poladova told CNN she hesitated on whether she'd flee the Ukrainian capital of Kyiv, but ultimately decided to move Friday.
Poladova described her journey to escape the city as Russia invaded the country, saying at times, people were running when they felt threatened.
"We hesitated for a long time — about an hour, whether to leave Kyiv. We went to the station without a plan, there was a train to Lviv. We stood in line. There was a huge queue. Someone started shouting about the bomb, about the grenade — we all ran in different directions. Then it turned out that it just drove people away from the train. We could not fit on the train, stayed at the station. We looked at train schedules to the West, anywhere," Poladova said
She said she was able to eventually find a train going to Rivne, Ukraine, where they were able to stay with a friend.
"We heard by chance that a train was going from the suburban station to Rivne. We ran there. There was some space in one of the train cars, we got up there. It was an electric train. We have been going to Rivne 8 hours, we were standing there 8 hours in crush with bags, with our cats. We arrived in Rivne. It turned out that there was a friend of a friend in this city, and we spent the night at her place. I plan to manage to take the train to Poland. In Rivne we were able to vaccinate and chip our cats in order to have an international passport for them," she told CNN.
3 hr 23 min ago
BP says it will offload its 19.75% stake in the state-owned Russian oil firm Rosneft
From CNN's Anna Stewart and Niamh Kennedy in London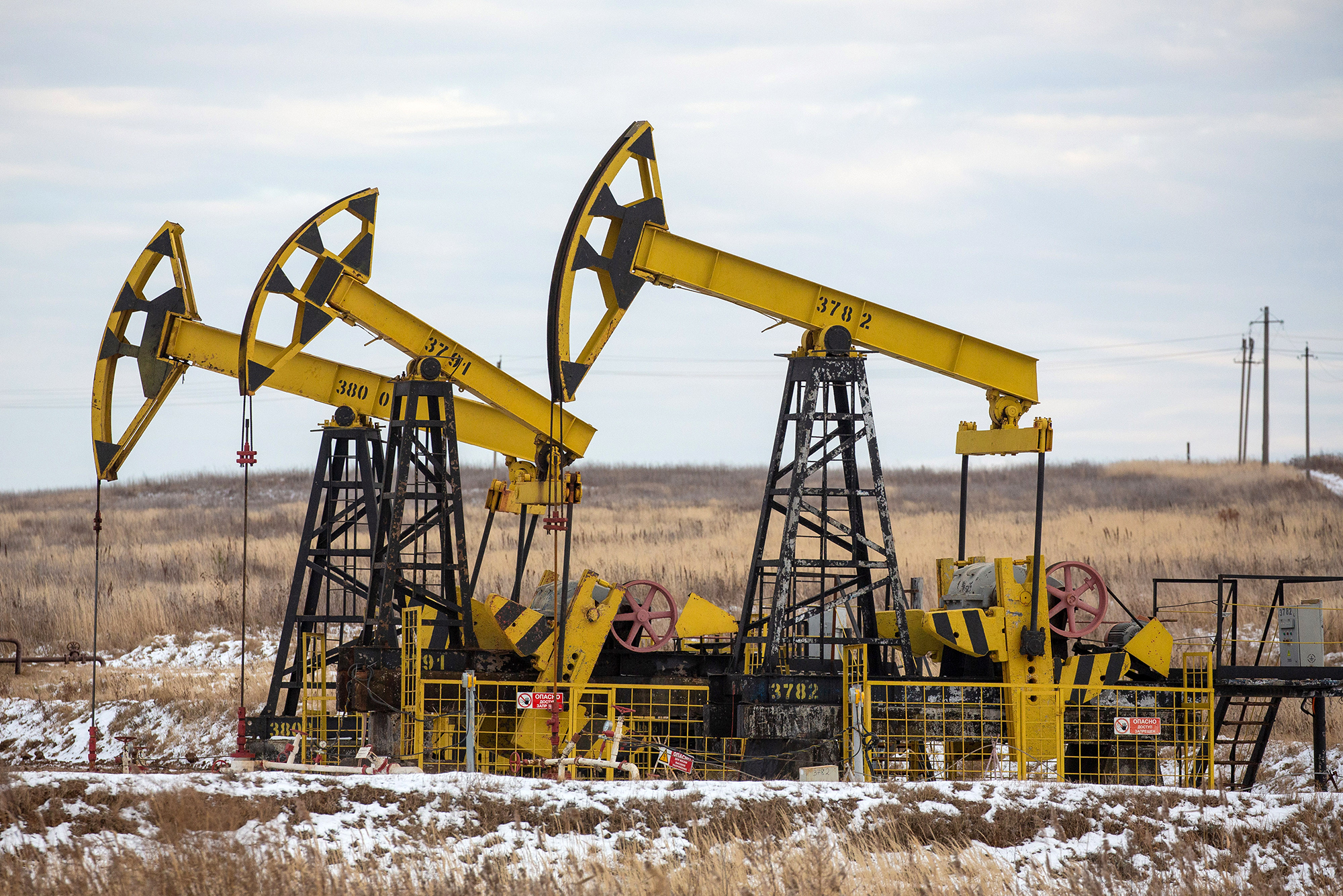 Oil giant BP will offload its 19.75% shareholding in Russian state-owned oil firm, Rosneft, according to a statement from the company.
"The bp board today announced that BP will exit its shareholding in Rosneft. Bp has held a 19.75% shareholding in Rosneft since 2013," the statement published on Sunday said.
Chief Executive Officer Bernard Looney will also resign immediately from Rosneft's board, according to the statement.
The British company had faced calls from the UK government to offload its ownership stake following Russia's invasion of Ukraine.
Looney said he "like so many" others was "deeply shocked and saddened by the situation unfolding in Ukraine," which prompted the company "to fundamentally rethink bp's position with Rosneft."
"I am convinced that the decisions we have taken as a board are not only the right thing to do, but are also in the long-term interests of bp," the CEO added.
BP chair Helge Lund added that "the Rosneft holding is no longer aligned with bp's business and strategy."
3 hr 32 min ago
About 120 Americans have left Ukraine in the last 24 hours, senior US defense official says
From CNN's Ellie Kaufman and Oren Liebermann
About "120 or so Americans" have left Ukraine and entered Poland in the last 24 hours, a senior US defense official told reporters Sunday morning.
These individuals "did not need US military assistance," the official said. "They already had their plans. They already had transportation available," the official added.
The US is "in discussions" with Polish authorities about what their needs might be and if they need American military resources to help with the flow of people across the Ukraine-Poland border, the official added.
Some 82nd Airborne troops are "poised at a couple of assembly areas farther back from the border" but they have not seen "any 'customers' to date," the official said.
"If there's a need for additional US military assistance, as the secretary has said, we'll be poised and trained and ready to do that," the official said. "But thus far, the Americans that we've seen cross the border have been able to take care of themselves quite well."
2 hr 23 min ago
Remembering 1968, Czechs protest in solidarity with Ukraine
From CNN's Ivana Kottasová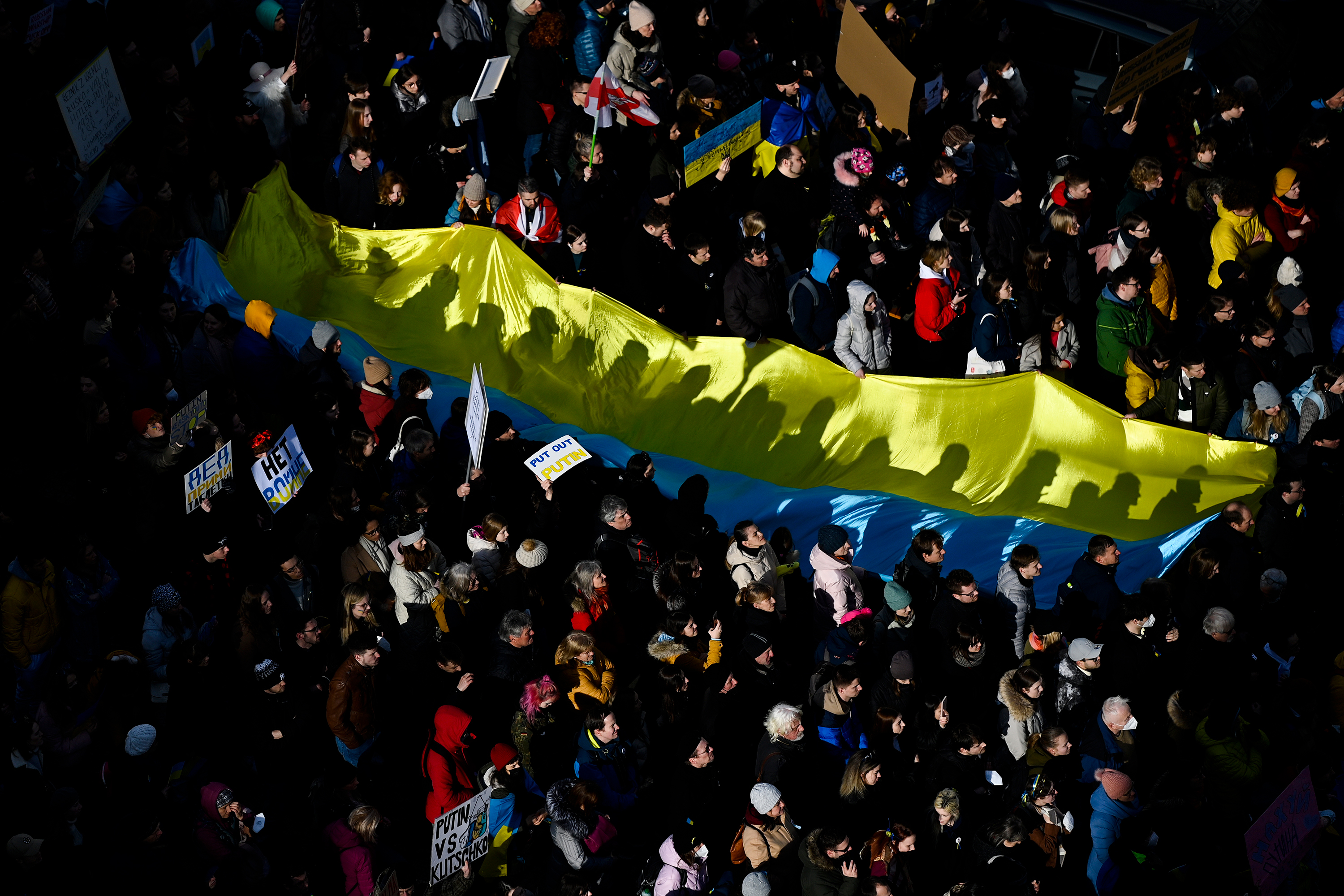 Tens of thousands of people attended a pro-Ukrainian rally in Prague on Sunday, filling the Czech capital's famous Wenceslas Square to the brink.
While protests, vigils and prayer meetings in support of Ukraine are being held across the globe, the event in Prague was particularly poignant given that many of its attendees experienced a Russian invasion first hand.
More background: On Aug. 21, 1968, Soviet-led armies of the Warsaw Pact invaded Czechoslovakia, crushing the so-called Prague Spring democratic reform movement and restoring the totalitarian communist regime.
Overnight, an estimated 500,000 troops from the Soviet Union, Poland, Hungary, East Germany and Bulgaria flooded the country.
At least 137 people were killed during the invasion. Tens of thousands fled the country during the weeks and months after the invasion. Soviet troops stayed in Czechoslovakia for over two decades, with the last leaving in June 1991, a year and half after the Velvet Revolution toppled the Communist regime.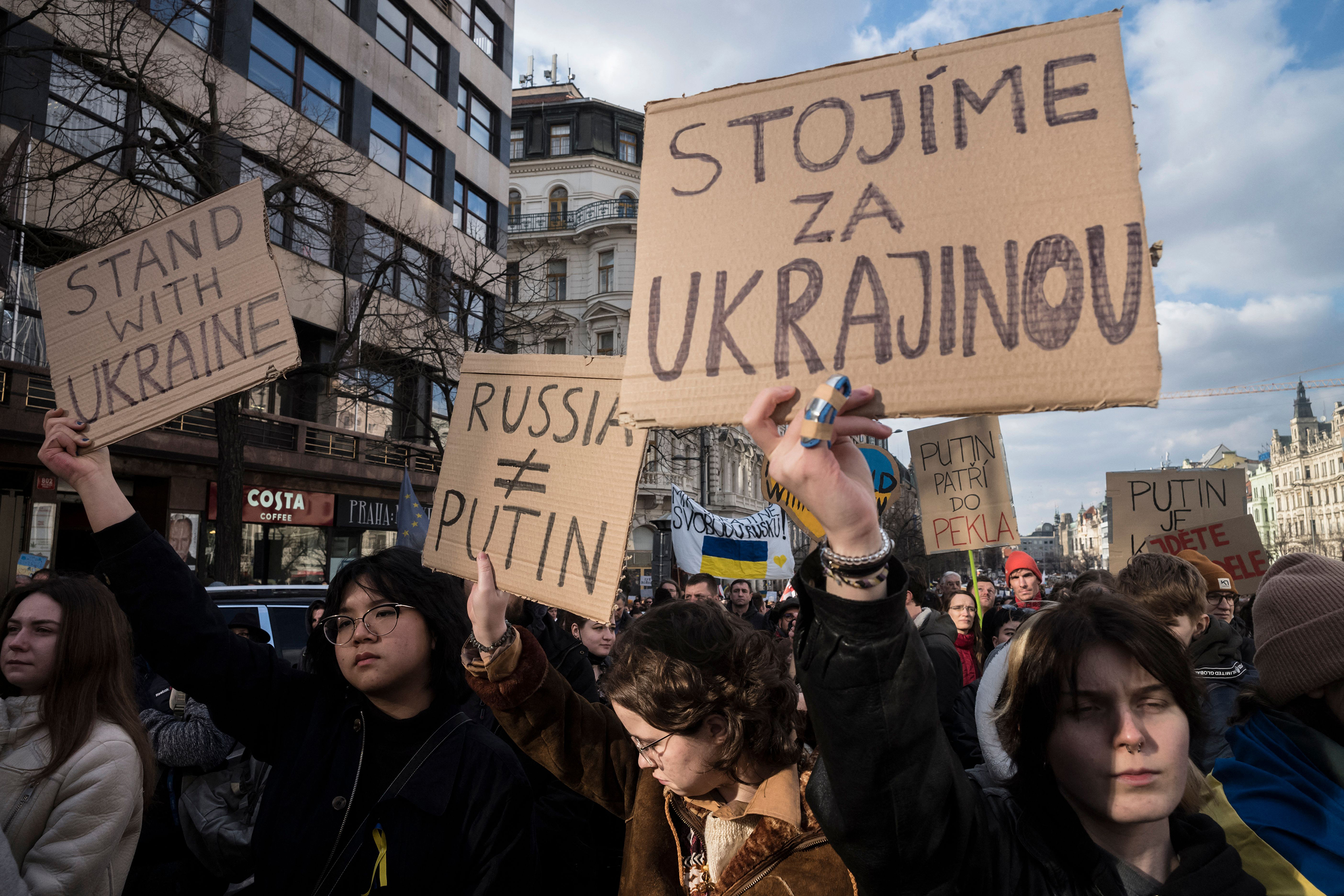 2 hr 30 min ago
Ukrainian president says he doesn't expect much from Monday's meeting but "let them try"
From CNN's Tim Lister in Kyiv and Chris Liakos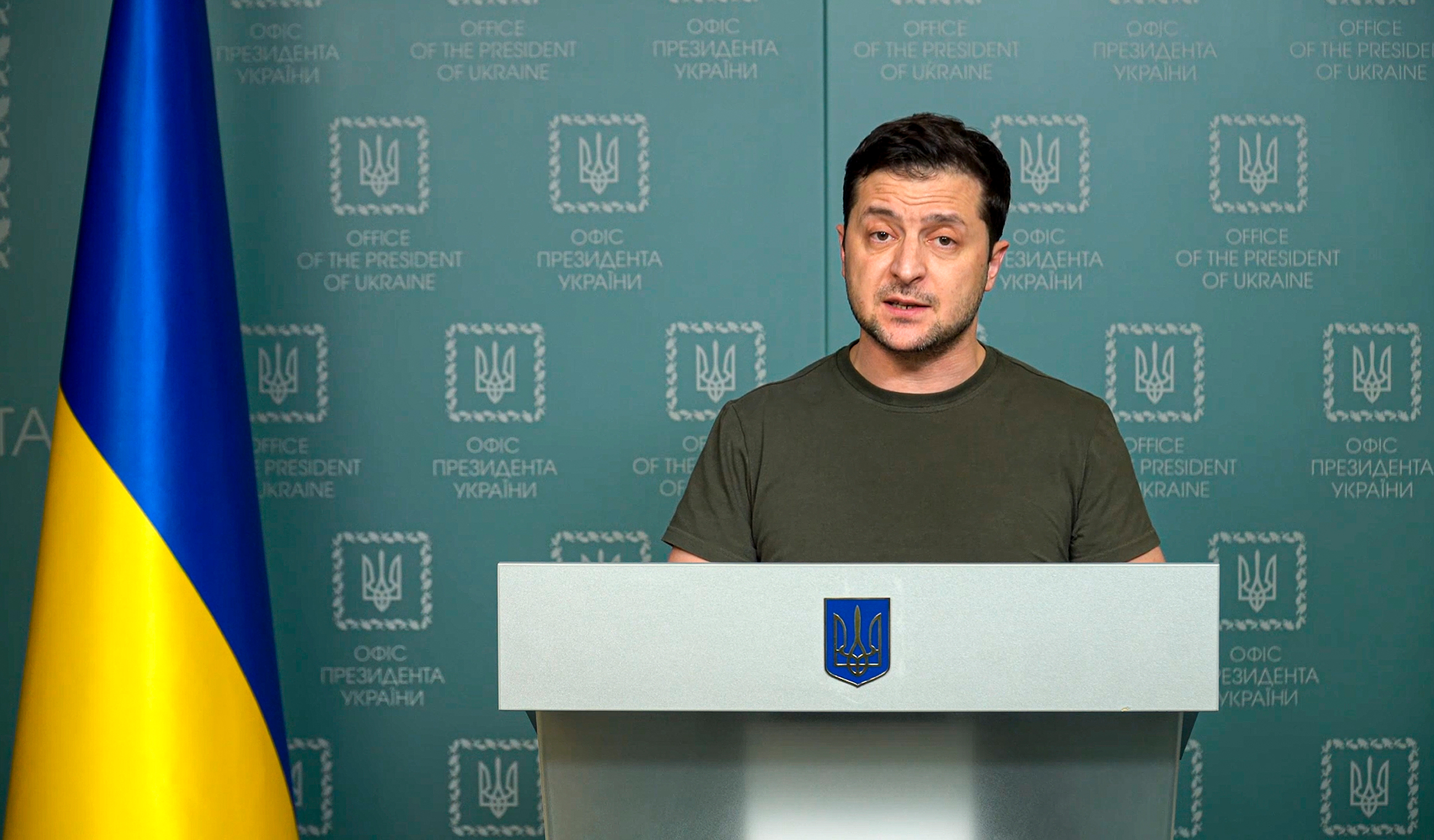 Ukrainian President Volodymyr Zelensky said in a brief televised statement that he doesn't expect much from a meeting between Ukrainian and Russian delegations on Monday. 
"I will say frankly, as always: I do not really believe in the result of this meeting, but let them try. So that no citizen of Ukraine would have any doubt that I, as president, did not try to stop the war when there was even a small chance," Zelensky said.
"And while our guys are there, the president is here, the chief of staff is here, the prime minister is here, the army is here, the commander-in-chief is here. We will all defend our state and our borders," he added.
Earlier Sunday, Ukraine's Deputy Interior Minister Evgeny Yenin said talks between Russian and Ukrainian delegations will take place Monday morning local time.
4 hr 18 min ago
EU bans Russian news outlets Russia Today and Sputnik
From CNN's Niamh Kennedy in London
The European Union has banned Russian news outlets Russia Today and Sputnik, according to its top diplomat Josep Borrell.
Speaking in a joint news conference in Brussels on Sunday, the EU's High Representative for Foreign Affairs and Security Policy announced that the bloc would ban the two outlets in a bid "to fight" Russian disinformation.
"Today we are taking a crucial step to turn off the tap for the Russian's information manipulation in Europe by banning Russia Today and Sputnik from broadcasting in the European Union," Borrell said.
 "We are killing the snake on its neck," the diplomat continued.
4 hr 20 min ago
European Union shutting down airspace to Russia, including private jets of oligarchs 
From CNN's Jennifer Deaton
European Commission President Ursula von der Leyen confirmed on Sunday that the European Union is shutting down the EU airspace to Russia.
"We are proposing a prohibition on all Russian-owned, Russian-registered and Russian-controlled aircraft. These aircraft will no more be able to land in, take off or overfly the territory of the European Union. This will apply to any plane", von der Leyen said. 
"Our airspace will be closed to every Russian plane. And that includes the private jets of oligarchs too," she said.
Many European countries had already closed their airspace to Russian airlines and aircrafts as of Sunday, including Germany, France and Italy.