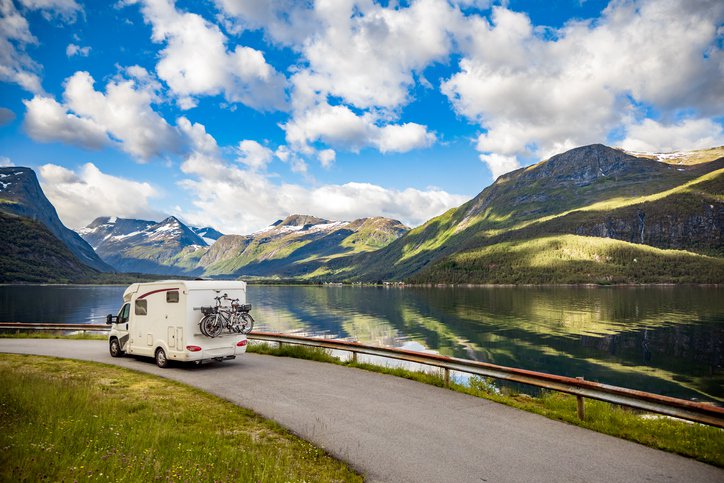 Image source: Getty Images
Will Uncle Sam subsidize the cost of your RV?
---
Key points
An RV allows you to travel while taking your home with you.
Many people finance an RV because motorhomes and trailers are expensive.
You may be eligible for the mortgage interest deduction if your RV meets the definition of a home and you itemize on your taxes.
---
An RV can be a great way to travel. You can see the world while bringing your home with you — and often pay less for a campground than you would for a hotel. The downside, however, is that recreational vehicles, including travel trailers and motorhomes, can be very expensive, sometimes costing hundreds of thousands of dollars to purchase.
If you are going to finance an RV, though, it may be possible under certain circumstances to qualify for a tax deduction that can help defray the cost. Here's what the deduction is, and what the rules are for qualifying for it.
You could become eligible for this tax savings after buying an RV
If you purchase an RV, you may actually be able to deduct the interest you pay on a loan you take out to buy it. To do this, you would claim the mortgage interest deduction.
Generally, a mortgage interest deduction is available if you take out a mortgage loan that is secured by a home. And you're allowed to claim this deduction for both a primary home where you live the majority of the time as well as for a second home.
"Home" is defined as a place that has sleeping quarters, a bathroom, and a place to cook meals. And many motorhomes and travel trailers have all of these features. If the one that you buy does, then your RV can be considered a second home and potentially qualify you for the mortgage interest deduction as long as the loan is secured.
How to find out if you can claim the mortgage deduction
If your RV meets the definition of a house, that's the first key step in being able to deduct interest paid. But there are a few other things to think about.
You cannot claim the mortgage interest deduction if you claim the standard deduction rather than itemizing on your taxes. And it makes sense to itemize only if the total value of deductions for specific expenditures, such as mortgage interest, charitable contributions, and state and local taxes, exceed the value of the standard deduction.
Buying an RV could potentially tip the scales in favor of itemizing, so it makes sense to itemize even if you didn't in the past. But since the standard deduction is pretty large (it's $12,950 for single filers and married filing separately and $25,900 for joint filers in 2022) you'll want to do the math first before deciding.
You are also allowed to deduct interest on loans only up to $750,000. It's unlikely you would spend more than that on an RV, but there are some fancy units that cost more — and even upwards of $1 million — so knowing this limit still matters.
If you itemize and you are able to deduct most or all of the interest on your RV loan, this will mean that Uncle Sam subsidizes the cost of your vacation home on wheels — and that's a great thing for you. You may as well take advantage of this savings and lower your tax bill so interest becomes more affordable and you have a little extra cash to spend on enjoying your next big camping vacation.
The Ascent's Best Mortgage Lender of 2022
Mortgage rates are at their highest level in years — and expected to keep rising. It is more important than ever to check your rates with multiple lenders to secure the best rate possible while minimizing fees. Even a small difference in your rate could shave hundreds off your monthly payment.
That is where Better Mortgage comes in.
You can get pre-approved in as little as 3 minutes, with no hard credit check, and lock your rate at any time. Another plus? They don't charge origination or lender fees (which can be as high as 2% of the loan amount for some lenders).