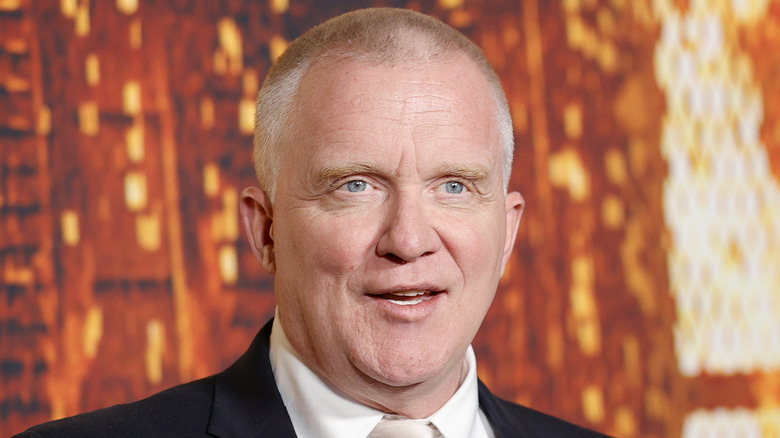 Amy Sussman/Getty Images
Anthony Michael Hall gained recognition for his acting in the '80s from a series of John Hughes' films, and was regarded as a member of the so-called Brat Pack; a group Hall says never existed and was simply an invention of the media (via Insider). Hall was born in Boston, but grew up in New York City, and was raised by his mother Mercedes, a jazz singer. Mercedes divorced Hall's father, Larry, an auto-body-shop owner, when Hall was just a baby. He was actually born Michael, but changed his name after learning there was already an actor named Michael Hall (via Biographics World).
With an actor like Hall, who has been working since he was a child, it's easy for fans to feel like they grew up with him, watching him turn from a gangly boy into a man. Still, there is a lot about Hall you might not know from watching his classic '80s movies or catching the television series he has starred in over his decades-long career. Stick around while we uncover the untold truth of Anthony Michael Hall.
Hall attended Manhattan's Professional Children's School
The Professional Children's School (PCS) was founded in 1941 by Jane Harris Hall and Jean Greer Robinson after they discovered how lax educational requirements were for the children working on Broadway. The school moved locations repeatedly over the years, but has been around the corner from Lincoln Center on the Upper West Side of Manhattan since the mid-1950s. The school basically created distance education, making it possible for children working in entertainment and the music, dance, sports, and even modeling industries to travel for work or competitions while maintaining their education (via Avenue Magazine).
Anthony Michael Hall began acting as a child, shooting his first commercial at age 7. Hall was the Honeycomb cereal kid from those awkward '80s commercials. Hall took his burgeoning career so seriously that he enrolled at Manhattan's Professional Children's School, allowing him the freedom to audition and work while going to school (per People). At PCS, he joined distinguished alumni including Christopher Walken, Carrie Fisher, Yo-Yo Ma, Uma Thurman, Christian Slater, Scarlett Johansson, and the Culkin clan of child actors (per Professional Children's School).
Hall landed his breakout role as a young teen
As a young teen, Anthony Michael Hall landed his breakout role playing Rusty Griswold in "National Lampoon's Vacation," co-starring with the legendary comedian, Chevy Chase. The cross-country family road trip from hell would not only become an iconic '80s comedy, but it would also launch the "National Lampoon's" film franchise, and Hall's acting career would pick up heat.
Hall told the Chicago Tribune about his breakout role, "When I got 'Vacation,' it was elation. I'm 53, so growing up in the '70s and watching 'Saturday Night Live' was a big deal. I really always loved and enjoyed that original cast, so as a kid working with some of these legends on that film was incredible."
Hall's performance in "Vacation" caught the eye of John Hughes, who had written the script for the family comedy. Hall became something of a muse for the writer/director, and they made a series of wildly successful teen films, launching both of their careers. Hughes told People, "For him to upstage Chevy, I thought, was a remarkable accomplishment for a 13-year-old kid." Looking back on his friendship with Hughes, Hall told Page Six, "There was a soul connection there. He was always like a big brother. He was such a big influence in my life."
Anthony Michael Hall and Molly Ringwald dated briefly
The next year, Hall played Farmer Ted, aka the Geek, in John Hughes' directorial debut: "Sixteen Candles." Farmer Ted was obsessed with girls — Samantha (Molly Ringwald), in particular — which she found demoralizing because the object of her affection was the dreamy senior Jake (Michael Schoeffling). "Sixteen Candles" made Ringwald and Hall stars. Hall told People, "I didn't play him with 100 pens sticking out of his pocket. I just went in there and played it like a real kid. The geek is just a typical freshman."
The success of Hughes' directorial debut led to another film the next year. "The Breakfast Club" cemented the stardom of its young cast, and added Hall and Ringwald's names to the Brat Pack clique. "The Breakfast Club" was well received by critics and audiences, and has great scores on Metacritic and a fresh rating on Rotten Tomatoes. Hughes tapped into something universal about teenagers in his string of '80s hits, and their authenticity owes a lot to the young cast.
After they finished wrapping "The Breakfast Club," Hall and Ringwald dated briefly. Hall told Page Six, "It was puppy love. She didn't have the time of day for me when we made 'Sixteen Candles,' and I was annoying to her! So it was really funny, it kind of hit me by surprise when we had our little thing there, but it was fun. She's wonderful, a great lady. We've been friends since, and I've seen her over the years."
At 17, Hall became Saturday Night Live's youngest cast member
Anthony Michael Hall made history when he joined the cast of "Saturday Night Live" (per People). It was also during this period red flags appeared, suggesting something was going on with the young star. A couple of years after his season on "SNL," Hall told the Los Angeles Times, "I was flying back and forth, doing the show in New York and shooting a $16-million movie in L.A. … I was proud to be the youngest SNL cast member, but the whole thing was overwhelming sometimes."
When Hall reflected years later on his time with "SNL," the told the Independent, "I was, forgive the language, scared s***less. I agreed to do the show and then I was walking around like a mummy for about a two-month period before we started the season." As reported by the Los Angeles Times, stories circulated about Hall's strange behavior during this period, leaving some concerned, and others frustrated.
Hall butted heads with Richard Tuggle while filming "Out of Bounds." Director Tuggle told the Los Angeles Times, "There's something about Michael that makes you like him and want to hug him, but for some reason, he seems bent on destroying that part of himself. People respond to his innocence, but he wants to be a cool leading man." When asked about his erratic behavior, Hall acknowledged it, telling the Los Angeles Times, "I'm certainly not blaming anyone who was involved in that period of my life, because I'm the one who created that scene around myself."
Hall developed a drinking problem as a teenager
In 1992, Hall looked back at this rough patch, telling People he began sneaking drinks at 13. Explaining that while filming "Out of Bounds," the production that required commuting cross-country to be on "SNL" over the weekend, he "was drinking vodka by the quart every day. I'd mix it with Sprite." Hall took advantage of his fame by going to clubs as a teenager, and admitted to having altercations with people when he was drunk.
Hall told the Los Angeles Times, "A lot of performers get messed up because they think they don't deserve their success, but I was the opposite. I thought I was so talented that I could blow people off and the offers would keep coming," adding with regret, "I was rude to a lot of people." After "Out of Bounds," bombed, Hall took two years off from acting to get a handle on himself. Hall told the Los Angeles Times, "For various reasons, I felt nervous about things and turned down the equivalent of about $200 million in domestic box office over the past two years."
In 1992, Teresa DePriest, Hall's girlfriend at the time, suggested to People his anger came from wishing his father was part of his life, while Hall's mother, Mercedes, said, "We all do different things to cover up the pain." In 1990, Hall reconciled with his estranged father with the help of his godfather. Hall said the reunion was wonderful, telling People, "Now I've got two new sisters and a stepmother."
If you or anyone you know needs help with addiction issues, help is available. Visit the Substance Abuse and Mental Health Services Administration website or contact SAMHSA's National Helpline at 1-800-662-HELP (4357).
Hall had a falling out with John Hughes
Hall turned down a role in "Ferris Bueller's Day Off." Hall told Insider, "Hughes wrote Ferris for me." He also turned down the part of Duckie in "Pretty in Pink," because it seemed like a repeat of "Sixteen Candles." Hall wanted to branch out and avoid being typecast. Sadly, turning down these roles led to a falling out between Hughes and Hall that lasted from the '80s until Hughes' death (per the Independent). Molly Ringwald has written about her similar experience with Hughes (via The New York Times).
Looking back on his falling out with Hughes, Hall told the Independent, "It was a sad occurrence … I was just a young actor wanting to grow, you know? And while I can't confirm this, I think that was difficult for John." Hall expressed his regret, saying, "I wish I could have spent more time with him. To let him know how much I loved him and how much he meant to me. Because, you know, he gave me my start, and so much more."
Recently Hall confided to the Chicago Tribune he's glad Hughes movies haven't been rebooted, saying, "Out of respect for Mr. Hughes (who died in 2009). If he was rebooting them himself and giving them his blessing, that would be one thing. But I think his work is so special, I think it should be left alone. Time will tell, I guess." These interviews give us insight into Hall's formative relationship with Hughes, who produced his best work when Hall and Ringwald were in front of the camera
Hall was in talks to join the cast of Full Metal Jacket
As reported by IndieWire, Hall was director Stanley Kubrick's first choice to play Joker in "Full Metal Jacket." Hall was in negotiations for a reported eight months, but couldn't reach a financial agreement with the eccentric director. As reported by the Los Angeles Times in 1988, rumors swirled about what happened in the negotiations, with director Richard Tuggle saying, "As I understand it, Michael left the picture rather than get fired. Kubrick kept changing the starting date, and Michael wasn't about to make allowances for anybody."
Years later, Hall told Dan Epstein in an interview, "I was offered the film in a conversation with Stanley Kubrick. Then, I had an eight-month negotiation with him. We just couldn't reach an agreement on a couple different levels, which were financial. It was a difficult decision, because in that eight-month period, I read everything I could about the guy, and I was really fascinated by him. I wanted to be a part of that film, but it didn't work out. But all sorts of stories circulated, like I got on set and I was fired … It's all not true."
Considering how troubled the production of "Full Metal Jacket" was and the director's creative, but cruel methods of extracting performances, maybe Hall actually dodged a bullet on this one (via Den of Geek). Despite Hall's disappointment at not working with the legendary director, the stories of actors, like Matthew Modine who played Joker in the film, suggest working with Kubrick was challenging.
Anthony Michael Hall loves music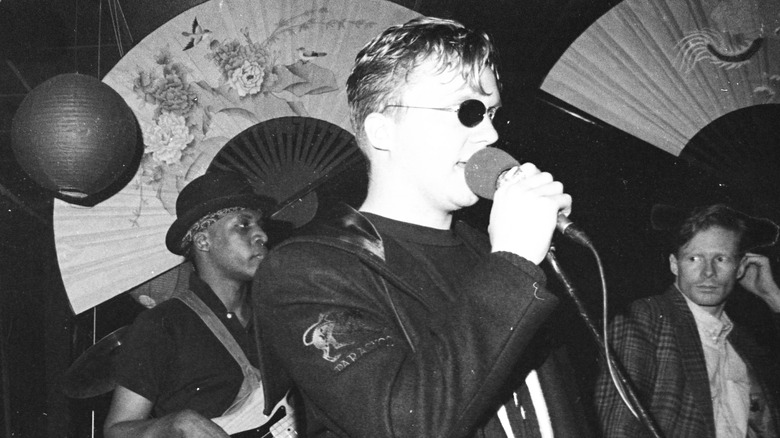 Bill Tompkins/Getty Images
Anthony Michael Hall got his love of music from his mother, Mercedes Hall, who is a celebrated jazz singer and voice teacher. Mercedes was born in Boston to a musical family, and studied piano before realizing singing was her calling. Mercedes moved them from Boston after her divorce, and they traveled together in Las Vegas, Arizona, and Los Angeles before landing in NYC where she built her career as a performer, and began teaching voice. Although she stopped performing for a while in the '80s to foster her son's career and raise her daughter, Mercedes began performing again and continued to grow her repertoire (via Last.FM).
Inspired by his mother, Hall founded a band, as he shared in an interview with Craig Ferguson. In another AOL interview from 1998, Hall expressed his enthusiasm about music and his upcoming album, sharing "We flew to Minneapolis and worked with Greasy Meal and Tommy Barbarella. Also Gilby Clarke from Guns and Roses. I have a great appreciation for '60s rock. Also funk." As reported by MTV in 1999, Hall released his debut album, "Hall of Mirrors," which they dubbed "a fuzzy rock/funk hybrid." Hall played drums, guitar, and bass on all tracks of the album and he sang, wrote, and produced, too.
Playing Bill Gates led to Hall getting the lead in The Dead Zone
Transitioning from teenage to adult roles has been challenging for many child actors who endeavor to make the leap, and Hall's experience wasn't an exception. Although Hall worked consistently in both television and film throughout the '90s, other than his turn as Jim in "Edward Scissorhands" and Trent in "Six Degrees of Separation," none of his roles or projects were standouts (per IMDb).
In 1999, Hall landed the role of Bill Gates in "Pirates of Silicon Valley," playing opposite Noah Wyle's Steve Jobs. Director Martyn Burke was impressed with Hall's transformation into Gates for his audition, telling SFGATE, "I said goodbye to Anthony Michael Hall at the beginning of the shoot, and said hello to him again at the wrap party. He lost himself in the character." Hall studied for the part, reading Gates' books, and watching documentaries to learn Gates' mannerisms and voice. Hall told SFGATE, "I admire how good a strategist he was. I wanted to capture his technical prowess, and his tenacity."
Hall's performance as Gates attracted the attention of Michael Pillar, who offered Hall the lead playing Johnny Smith in "The Dead Zone," a television series based on Stephen King's novel. Hall told Collider, "I was really grateful for it because I struggled through my 20s. So by the time I got that show, I was in my early 30s and we had a great run. I was really willing and ready to put in the work." Starring as Johnny Smith for six seasons was the comeback Hall had been working for.
Hall is godfather to Robert Downey Jr.'s son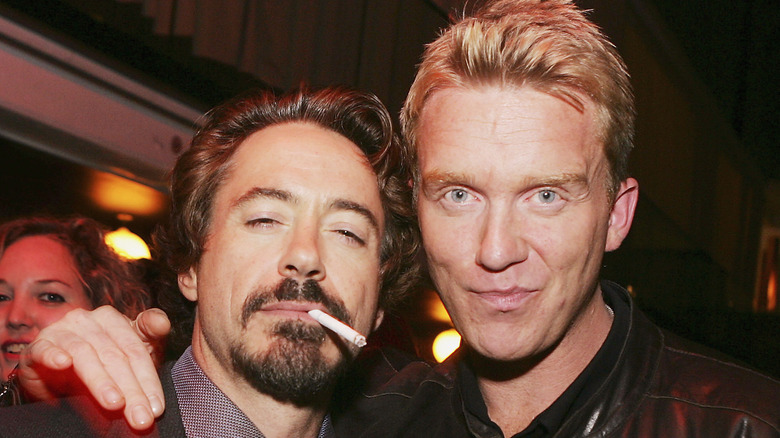 Kevin Winter/Getty Images
In an interview with Sam Jones, Robert Downey Jr. said that he and Anthony Michael Hall met on the set of "Weird Science," and became friends. Downey shared how Hall always encouraged Downey's work as an actor, relating how, "He in a way was my first Jon Favreau. He was someone who said to me 'I'm going to go do SNL and I'm gonna get you an audition. I bet you're gonna get yourself on the show too, and they'll be lucky to have us.'" Although both actors were only on the sketch-comedy show for one season, their friendship grew during that time (via Off Camera).
They co-starred in "Johnny Be Good" in 1988, and Downey played Jerry in Hall's directorial debut, "Hail Caesar" in 1994. They kept in touch over the years, even through Downey's struggles with addiction. In an AOL interview Hall said, "When Robert was going through rehab, I went to see him regularly. We are very close friends, but we've kind of lost touch with everything that's been going on in his life." Hall is the godfather of Downey's son, Indio Falconer Downey, suggesting their friendship is very important to both actors (via Biography).
If you or anyone you know needs help with addiction issues, help is available. Visit the Substance Abuse and Mental Health Services Administration website or contact SAMHSA's National Helpline at 1-800-662-HELP (4357).
Hall was charged with assault in 2016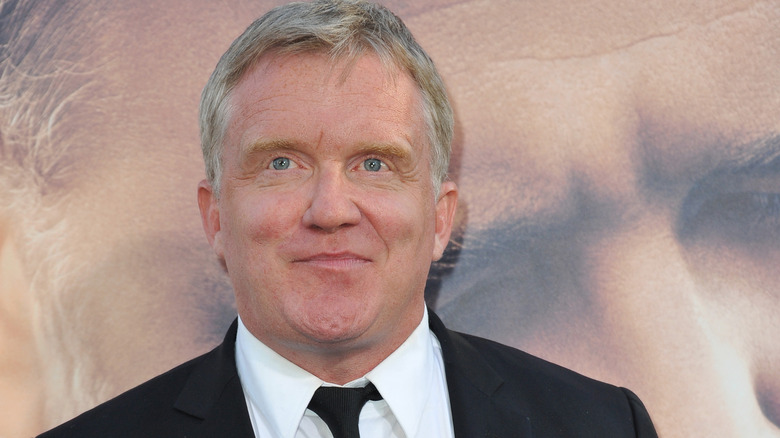 Featureflash Photo Agency/Shutterstock
As reported by the Los Angeles Times, an altercation with a neighbor in their Playa del Rey condominium complex turned physical when Hall pushed the neighbor down. Hall's neighbor broke his wrist and sustained a back injury during the altercation. Hall was charged with felony battery with great bodily injury on November 17, 2016. According to the Los Angeles Times, the neighbor gained a temporary restraining order because of the incident, but didn't get a permanent one.
As reported by People, in January 2017, Richard Sampson, Hall's neighbor, sued Hall in a civil case for "negligence, assault, battery, intentional infliction of emotional distress, and negligent infliction of emotional stress." People also reported that in September 2017, Hall pleaded no contest to a criminal misdemeanor assault charge, in a plea deal giving him three years probation and 40 hours of community service. Had they convicted Hall of the original charge, he may have spent a maximum of seven years in jail.
Hall has worked steadily on television since The Dead Zone wrapped
Since "The Dead Zone" was canceled in 2007, Anthony Michael Hall has worked steadily on television, taking guest star roles in procedural series like "CSI: Miami," "Psych," and "Murder in the First." Hall also revisited his comedy roots, guest starring in two episodes of "Community" with his former "Vacation" co-star, Chevy Chase. In 2011 and 2012, Hall revisited the sci-fi/fantasy genres guest starring as Walter Sykes in five episodes of "Warehouse 13."
In 2013, Hall joined the cast of MTV's comedy "Awkward," playing Mr. Hart, the wicked creative writing teacher at Palos Hills High School. Ashley Rickards, who plays Jenna in the series, told The Hollywood Reporter, "Mr. Hart doesn't have a heart, but he will bring up some interesting questions for Jenna to think over and push her to places she wouldn't go normally and make her face some really hard decisions."
In 2018, Hall guest-starred in a flashback episode of "Riverdale" as Principal Featherhead, in an homage to "The Breakfast Club" with all the '80s Riverdale students attending Saturday detention. In 2019, Hall began a string of guest appearances on "The Goldbergs" as Mr. Perott, and in 2020, Hall guest-starred in two episodes of "The Blacklist" as Robby Ressler (per IMDb).
Hall was thrilled to join the cast of Halloween Kills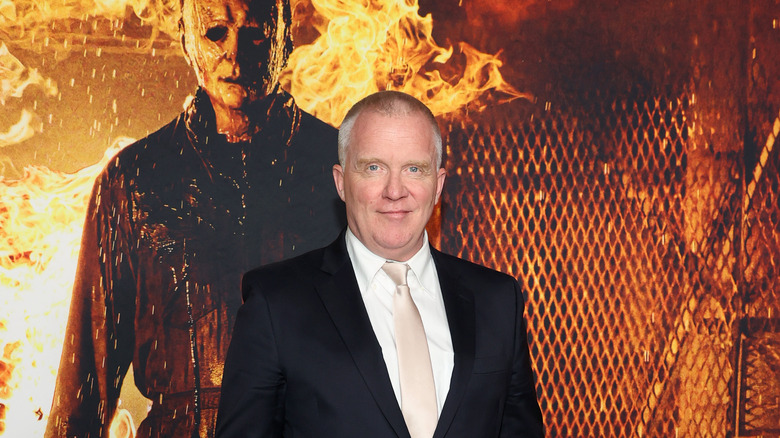 Amy Sussman/Getty Images
Anthony Michael Hall has landed supporting roles in a variety of films after "The Dead Zone" ended, including "Live by Night" with Ben Affleck, Netflix's "War Machine" with Brad Pitt, and Christopher Nolan's "The Dark Knight." In 2019, Variety announced that Hall had joined the cast of "Halloween Kills" as a grown-up Tommy Doyle, one of the kids Laurie Strode (Jamie Lee Curtis) babysat in the 1978 horror movie, "Halloween." In 2021, shortly before "Halloween Kills" hit screens, Hall spoke with Steve Weintraub at Collider about how excited he was to join a franchise with such a long history and loyal fan base.
Hall's personal life has also been on an upswing. As reported by People, Hall got engaged to actress Lucia Oskerova in 2019. The couple co-starred in "War Machine," and have been seen out and about since 2016. In 2020, Hall told Page Six, "We've been together for a bunch of years now and I'm very excited about it," sharing how the couple planned to wed in Florida at the Fontainebleau. Now that Hall has settled down and gotten married, it looks like his career is coming full circle, playing Vice Principal Faulk in "The Class." As reported by Variety, Hall is also an executive producer on this teen drama about a group of seniors who must attend school on a Saturday to take a make-up test in order to graduate.