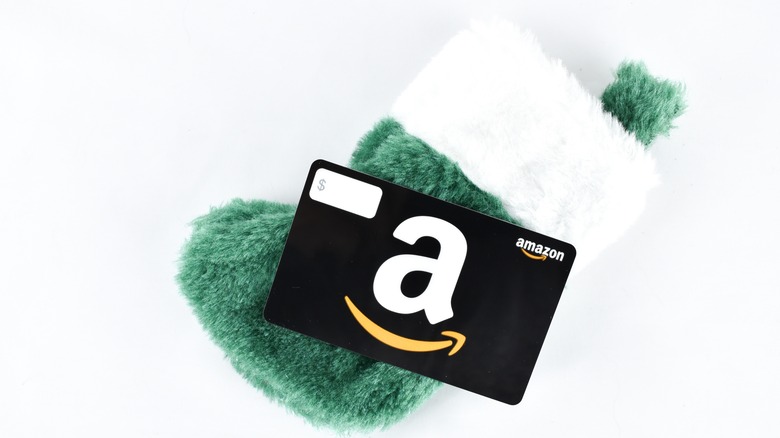 JoanneStrell/Shutterstock
The problem with holiday shopping is, it's never really done, is it? Even if you're the hyper-organized sort who starts buying gifts in July, you may start panicking a week or so out from the big day, when you realize your gift stash is still looking kind of meager. All those holiday commercials filled with happy families make it look like Mom and Dad cleared out at least one Toys "R" Us aisle per kid … back when Toys "R" Us still existed, that is. In order to pad out everyone's haul, we resort to the stocking stuffer. What, precisely, constitutes a stocking stuffer? For Jeff Bezos, such a stopgap gift is probably anything under $100k or so. For those of us still in the ranks of the 99 percenters, though, it's more likely to be anything below $25.
Speaking of our favorite billionaire, this time of year, it's jingle all the way for Amazon's founder and current Executive Chair. But we'll keep on lining his pockets … since even the ultra-rich deserve to have a merry Christmas. Okay, to be honest, our Amazon loyalty has nothing to do with altruism and everything to do with that two-day (or even same-day!) Prime Delivery that makes this online retailer the procrastinator's best friend. All of the stocking stuffers on this list are our top picks for gifts that are all pretty cool, relatively cheap, and, as of time of publication, can be at your doorstep within just a few days.
These foodie dice are perfect for a wannabe Iron Chef
Do you have a friend or family member who's addicted to cooking competition shows? If they're particularly fond of "Iron Chef"-style challenges where contestants are charged with making gourmet goodies out of randomly-selected ingredients, they're sure to get a kick out of these Foodie Dice. The set includes five primary dice featuring cooking methods, carbs, herbs, bonus ingredients, and protein sources. (Each side of the protein die has both meat and vegetarian options, although vegans be warned: not all options are non-dairy.) There are also four additional dice, one for each season, featuring veggies that should be at their best at these times. The Foodie Dice are one of Good Housekeeping's top picks for Amazon stocking stuffers under $50 (they actually cost less than half of that amount), and they suggest that this gift will be popular with anyone stuck for dinner ideas.
Purchase the Two Tumbleweeds Foodie Dice for $24.
Stick this frother in the stocking of your favorite latte lover
If you know someone who's trying to kick the Starbucks-a-day habit, but just can't do without their daily latte, Zulay's battery-operated milk frother can help them re-create their favorite coffeehouse creations at home. Tulsa World chose this as one of the best stocking stuffers for college students, noting it can easily be used in a dorm room with no cooking facilities, but it comes in handy in even the most well-stocked of kitchens, as well. All you have to do is insert it right into your beverage of choice, push the button, and voilà — instant froth. This handy little gadget, which comes complete with stand, is available in a wide variety of colors, but the least expensive option is a festive Christmas red complete with little green tree.
Purchase the Zulay Original Milk Frother on Amazon starting at $16.99.
Give the gift of glowing skin with this exfoliating brush
Grooming gifts are always in good taste, and Amazon itself notes that one of their top-selling beauty items this festive season is a facial cleansing brush made by Olay Regenerist. While the product page shows pictures of women using this product, skin care is non-gender specific — so there's no reason to think of this as strictly a "chick gift." It can be used on the high speed for exfoliating or scrubbing off hard-to-remove dirt or makeup or used on low speed for a gentler cleansing. The pads are replaceable and can, of course, be ordered from Amazon. As to how well the product works, 4.6 stars (and nearly 90% of reviews) say this battery-operated face brush does its job very well, indeed.
Purchase the Facial Cleansing Brush by Olay Regenerist on Amazon for $19.95.
This plug will smarten up anyone's home
Do you know someone who's intrigued by the idea of a "smart home," but doesn't really get how the whole thing works? Look at this smart plug as a kind of smart home gateway gift. You can just plug any old appliance into the outlet, and suddenly your not-too-bright toaster oven is now a genius! Well, you'll at least be able to turn it on and off via Alexa or the Amazon phone app, which is really all you need your toaster oven to do. Come to think of it, this plug would also make a terrific stocking stuffer for anyone who worries that they'll forget to turn off their appliances whenever they leave the house. PopSugar gives the Amazon Smart Plug 2 thumbs up, calling it a "genius" gift idea, though it must be noted that this gadget will not work with the Google Nest or any non-Amazon-branded smart speakers.
Purchase the Amazon Smart Plug for $24.99.
These psychedelic socks make a groovy gift
Socks for Christmas used to be the ultimate bad present cliché, right up there with ugly sweaters. If ugly sweaters can be upgraded to beloved (though slightly ironic) tradition, though, why not start the same trend with holiday sock gifting? Not Christmas-specific socks, though, since those aren't the kind of thing you can really wear year-round. Instead, we suggest these far out tie-dye socks. They're made of comfy cotton and are colorful enough that Refinery 29 suggests you can skip the wrapping paper and stuff them straight in the stockings as is. (Socks in socks, so meta!) They come five pairs to a pack, as well, so they're perfect for gifting the whole crew! (See what we did there?)
Purchase a five-pack of Bienvenu Tie-Dye Cotton Socks starting at $16.19.
This vaccine card protector may be 2021's most practical stocking stuffer
If you've done any traveling or have attended festivals, concerts, or other public gatherings over the past few months, you undoubtedly know the drill: Pull out that vaccine card. By now, though, that flimsy piece of cardboard may be starting to look pretty raggedy, and yet they tell us we're not supposed to laminate our cards since they'll still need to be updated with info about booster shots, etc. While the well-organized amongst us carry photos of these cards on their phones, still, you never know when you're going to be asked to produce the actual card itself. Well, wouldn't you know, Amazon's got a great solution for this problem! These handy-dandy Teskyer vaccination card protectors can help keep our vaccine cards safe, yet easily updatable, which is probably why Refinery29 says they make their readers' most-wanted stocking stuffer list.
Purchase a five-pack of Teskyer Vaccine Card Protectors on Amazon for $7.98.