10 hr 30 min ago
Austrian chancellor says meeting with Putin was "not a friendly visit"
From CNN's Nadine Schmidt in Berlin 
A face-to-face meeting between Austrian Chancellor Karl Nehammer and Russian President Vladimir Putin in Moscow was "not a friendly visit," Nehammer said in a statement issued by an Austrian official after the meeting.
"This is not a friendly visit. I have just come from Ukraine and have seen with my own eyes the immeasurable suffering caused by the Russian war of aggression," he said in the statement.   
Nehammer — the first European Union leader to have met with Putin since the invasion of Ukraine began on February 24 — said the conversation with the Russian leader was "very direct, open and tough." 
The Austrian chancellor added that his most important message to Putin was that the war in Ukraine must end because "in a war there are only losers on both sides," reiterating that he had hoped to help bring an end to the war or improve conditions for civilians. 
"I addressed the serious war crimes in Bucha and other places and emphasized that all those responsible for them must be held accountable. I also told President Putin in no uncertain terms that sanctions against Russia will remain in place and will continue to be tightened as long as people are dying in Ukraine," Nehammer said.
"I have just come from Ukraine and have seen with my own eyes the immeasurable suffering caused by the Russian war of aggression. The trip to Moscow and the talks with President Putin are a duty for me. A duty out of a sense of responsibility to leave no stone unturned to bring about a cessation of hostilities or at least humanitarian progress for the suffering civilian population in Ukraine. For me, there is no alternative to seeking direct talks with Russia as well, despite all the very great differences," Nehammer said in the statement. 
"The EU is more united than ever on this issue. I also made it clear to the Russian President that there is an urgent need for humanitarian corridors to bring drinking water and food to the besieged cities and to bring out women, children and the wounded. I will now return to inform our European partners about my conversation with the Russian President and discuss further steps," he concluded.
11 hr ago
Here's how Pink Floyd's first song in nearly 30 years to support Ukraine came together
Pink Floyd guitarist David Gilmour joined CNN on Monday to talk about why the band decided to record its first music in nearly 30 years — a song in support of Ukraine featuring vocals by a Ukrainian soldier.
The legendary rock band released the new single "Hey Hey Rise Up" last week in support of the people of Ukraine, the band said in a statement. It's the first new music from the band since 1994, and all proceeds will go to Ukrainian humanitarian relief, the statement added.
The song is performed by Gilmour and drummer Nick Mason, with bass player Guy Pratt and Nitin Sawhney on keyboard. The song features vocals by Andriy Khlyvnyuk from the Ukrainian band Boombox. The band used audio of Khlyvnyuk singing in central Kyiv, the Ukrainian capital, where he performed "a rousing Ukrainian protest song written during the first World War which has been taken up across the world over the past month in protest" against the Russian invasion.
Gilmour, who has a Ukrainian daughter-in-law and grandchildren, said in the statement that he felt moved by Khlyvnyuk's performance "in a square in Kyiv with this beautiful gold-domed church and … in the silence of a city with no traffic or background noise because of the war."
On Monday, Gilmour talked about how his family members sent him the clip of Khlyvnyuk singing that song in the square. 
"It's just a very, very striking performance and of course, due to the fact it's a cappella and there's no other instruments backing it. So you can easily take it to a studio and do something with it," he said.
Gilmour said at the time he was "already very frustrated by my own inability to do anything much" for Ukraine. He called Russia's attack on Ukraine "appalling."
Gilmour said it is an "awful thing that's going on in Ukraine" and this song "seemed like a great thing to arrive at my feet that I could then turn it into something which was actively, I hope, do some positive good." 
Asked if he could imagine the band doing a live performance with Khlyvnyuk in the future, Gilmour said, "I certainly wouldn't rule it out." 
"It would be great if we can make something like that work. And he's very keen on the idea. I have spoken to him several times in the last three weeks," he added.
Gilmour said that one of those conversations he had with the singer, who is fighting in the war, happened while "he was in a hospital bed having been struck by a piece of mortar shrapnel." 
"He was there with a big black eye, a bandage all over his face. The reality of what he's living, other people are living through there is just beyond what most of us can really understand or believe can happen in the world."
8 hr 46 min ago
Temporary bridge opened in Kyiv suburb of Irpin, senior Ukrainian official says
From CNN Staff
A temporary bridge in the Kyiv suburb of Irpin has been completed, opening a route for humanitarian aid and reconstruction, a senior Ukrainian official said Monday.
Minister of Infrastructure of Ukraine Oleksandr Kubrakov said the temporary crossing on the R-30 road had been completed and could bear the load of two trucks moving in both directions.
"This is important, given that its main purpose is to create a sustainable logistics connection for Irpin and surrounding cities, which need both humanitarian aid and building materials to rebuild infrastructure," he said. 
The main Irpin bridge was destroyed in the opening days of the war by Ukrainian forces to slow the advance of Russian troops. A CNN team observed that traffic has been returning to the town as some residents go back.
10 hr 52 min ago
Austrian Chancellor Nehammer's meeting with Putin concludes
From CNN's Nadine Schmidt
A meeting between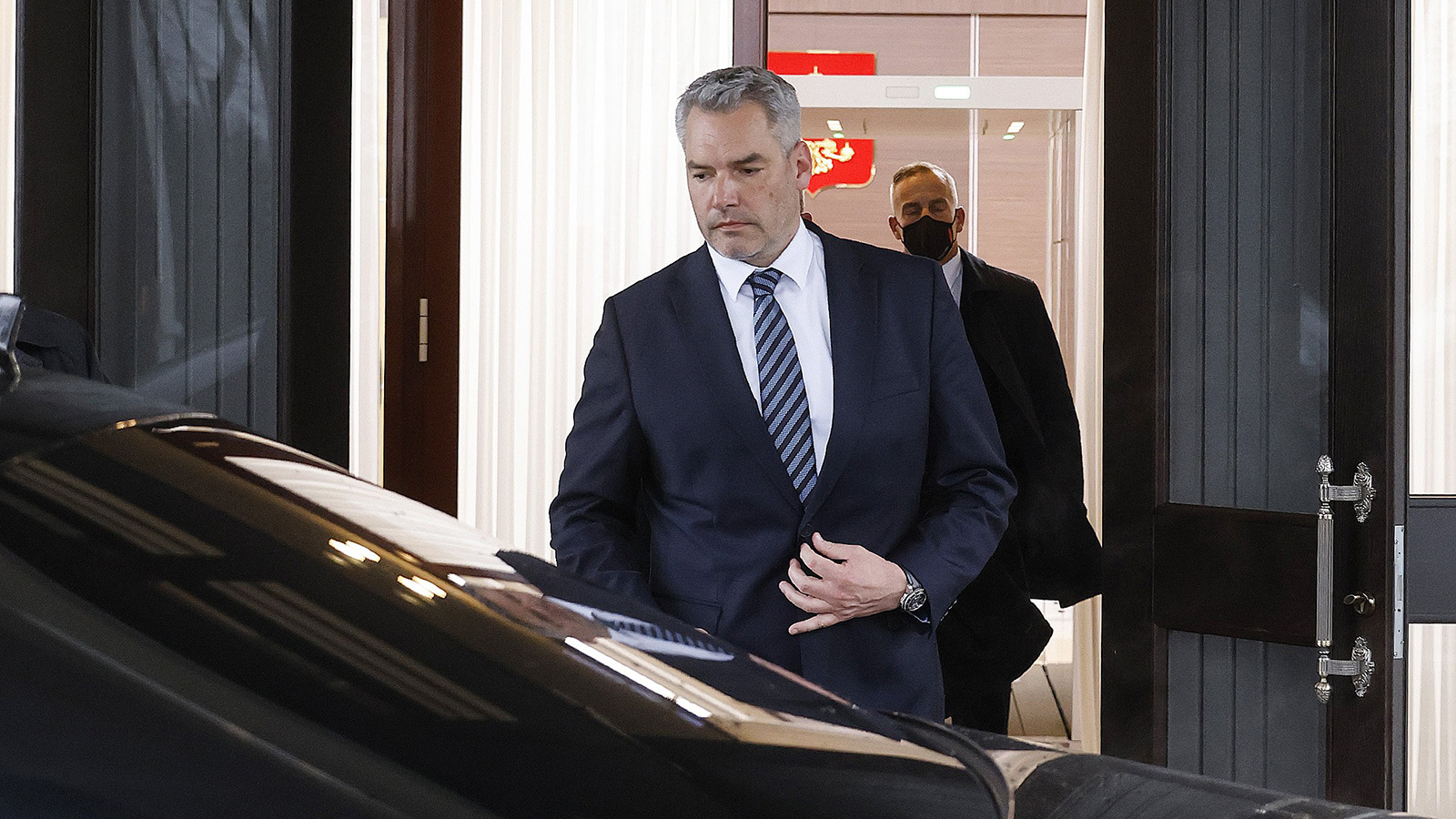 Austrian Chancellor Karl Nehammer and Russian President Vladimir Putin in Moscow has concluded, Nehammer's spokesperson, Etienne Berchtold, told CNN.
The meeting lasted 75 minutes, the spokesperson added.
11 hr 9 min ago
Spain grants temporary protection to nearly 52,000 Ukrainians, government says
From CNN's Al Goodman
Nearly 52,000 Ukrainian refugees in Spain have been granted "temporary protection," the Spanish government said Monday, adding that 39% of them are minors. 
The temporary protection status was approved for every application submitted by Ukrainian refugees, Spain's Ministry of the Presidency said in a statement.  
The number of Ukrainian refugee children attending Spanish schools has nearly doubled in the past week to a current total of more than 13,000 students, the statement said. 
Spanish government reception centers to aid Ukrainian refugees, who have fled their country since Russia's invasion, are now operating in the capital of Madrid and in the Mediterranean port cities of Barcelona, Malaga and Alicante, the statement said. 
Many Ukrainian refugees have gone to these reception centers for initial aid, although some others found help directly from the approximately 114,000 Ukrainians already living in Spain before the war began, officials have said in recent weeks. 
11 hr 47 min ago
Meeting between Putin and Austria's chancellor is underway
From CNN's Nadine Schmidt
A meeting between Austrian Chancellor Karl Nehammer and Russian President Vladimir Putin is underway in Moscow, Nehammer's spokesperson, Etienne Berchtold, told CNN.
It is the first visit by an EU leader since Russia's invasion of Ukraine began in late February.
A top Austrian official said Nehammer intends to tell Putin "the truth" about the war during their face to face meeting.
Some background: Nehammer's trip to Moscow is significant given his country's neutral status, which is enshrined in its constitution.
Austria is not part of NATO and does not supply weapons to Ukraine. It has, however, provided Ukraine with humanitarian aid and helmets and protection vests for civilian use, according to a statement from the Austrian Chancellery.
Nehammer said Saturday that while his country is militarily neutral, "we understand we have to help where injustice and war crimes take place."
12 hr 51 min ago
Here's what you need to know about how war crimes prosecutions work
From CNN's Zachary B. Wolf
Shocking atrocities in Ukraine, allegedly at the hands of Russian forces, have amplified calls to pursue war crimes charges against Russian President Vladimir Putin.
Images of at least 20 bodies strewn across the street in Bucha, Ukraine, emerged in early April following the withdrawal of Russian forces from the area, prompting Ukrainian President Volodymyr Zelensky to call for an end to Russian "war crimes." And at least 50 deaths from a Russian missile strike on a railway station in the eastern city of Kramatorsk – where civilians were waiting for evacuation trains to safer regions of the country – led Zelensky to say, "We expect a firm, global response to this war crime."
Already, there was a loud and growing chorus of calls for the International Criminal Court to pursue Putin for the unprovoked invasion, and the US government in March formally declared that members of the Russian armed forces have committed war crimes.
Here's a very broad look at war crimes and the international justice movement:
What is a war crime?
The International Criminal Court has specific definitions for genocide, war crimes, crimes against humanity and the crime of aggression. Read about them in this guide published by the ICC.
What is the International Criminal Court?
Located in The Hague, Netherlands, and created by a treaty called the Rome Statute first brought before the United Nations, the International Criminal Court operates independently.
Who can be tried by the court?
Anyone accused of a crime in the jurisdiction of the court, which includes countries that are members of the ICC, can be tried. The court tries people, not countries, and focuses on those who hold the most responsibility: leaders and officials. While Ukraine is not a member of the court, it has previously accepted its jurisdiction. Putin could, therefore, theoretically be indicted by the court for previously ordering war crimes in Crimea. However, the ICC does not conduct trials in absentia, so he would either have to be handed over by Russia or arrested outside of Russia. That seems unlikely.
What crimes does the court handle?
The ICC is meant to be a court of "last resort" and is not meant to replace a country's justice system. The court, which has 18 judges serving nine-year terms, tries four types of crimes: genocide, crimes against humanity, crimes of aggression and war crimes.
How does the ICC bring proceedings?
Court proceedings can be brought in one of two ways: Either a national government or the UN Security Council can refer cases for investigation.
What will the ICC investigate in relation to Ukraine?
In its new investigation into Russia's possible war crimes, the ICC has said it will look at all actions in Ukraine from 2013 to the present.
How long do these investigations take?
If justice in general moves slowly, international justice barely moves at all. Investigations at the ICC take many years. Only a handful of convictions have ever been won.
Read more about how war crimes prosecutions work here.
12 hr 50 min ago
Kramatorsk evacuations move to neighboring station, mayor says
From CNN's Maria Kostenko in Chernivtsi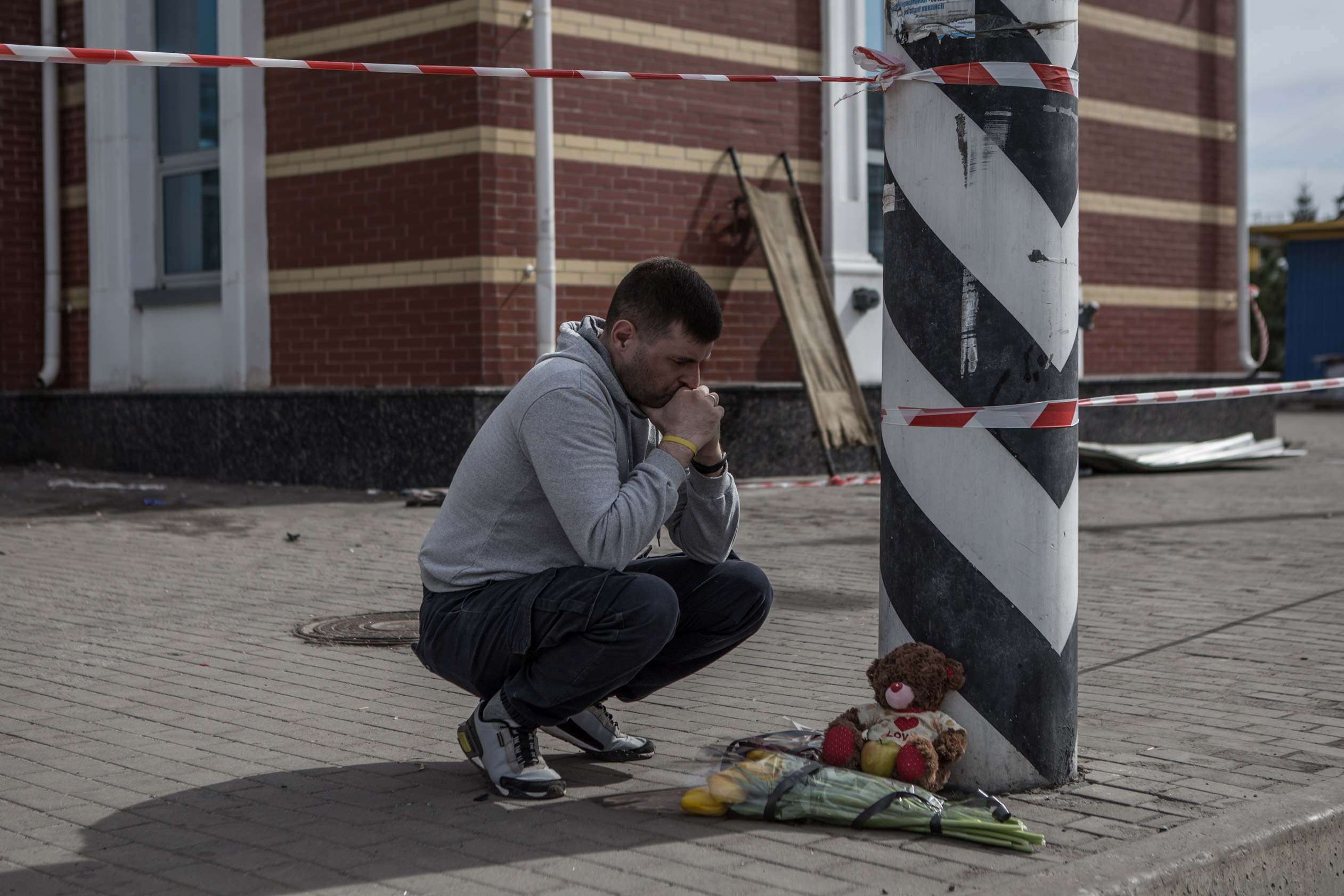 Kramatorsk's railway terminal remained closed and civilian evacuations were continuing from nearby Slovyansk as cleanup and repairs continue following a Russian missile strike Friday, according to the city's mayor, Oleksandr Honcharenko.
"Compared to Friday, the city is quite calm today," Honcharenko said in remarks at a news conference Monday. "Yesterday we were allowed to go to the train station to start cleaning up after the terrible tragedy. Unfortunately, the evacuation from the Kramatorsk railway station is not happening today. There is no agreement on whether the railway station will be opened, as Ukrzaliznytsia [the Ukrainian state railway company] has to carry out some repair work."
Pavlo Kyrylenko, the head of the Donetsk regional military administration, said Sunday the death toll from a Russian missile strike on the train station in Kramatorsk had risen to 57. 
Authorities had begun evacuating civilians fleeing an expected Russian offensive from the neighboring town of Slovyansk, the mayor said.
"Slovyansk will now become a railway hub for the evacuation of the northern Donetsk region," he said. "In the south of Donetsk region, the hub for evacuation will be Pokrovsk."
13 hr 10 min ago
9 volunteer drivers on rescue mission to Mariupol detained by Russian forces, aid group says
From CNN's Jake Tapper
Nine drivers working for "Help People," a Ukrainian volunteer group that provides food and medicine for those in need and assists in evacuations, were detained by the Russian military and remain missing, a group official told CNN.
A total of 10 minibus drivers had driven into the Donbas region to help evacuate civilians from the besieged city of Mariupol, operating private vehicles in a low-profile rescue mission. Russian soldiers stopped them and tried to get them to drive the buses into Russia. When the drivers refused, they were taken prisoner, said Alex Voronin, the head of the non-government organization.
Voronin told CNN he had lost contact with all the drivers but one.
"All of them carried out the evacuation of people in the direction of Mariupol-Zaporizhzhia, they were sent on their trips on different dates — March 26, 27 and 31," Voronin told CNN. "Communication with them broke off the next day after departure. According to the people they managed to evacuate, the Russian military took the vehicles with people in Mariupol from the drivers, the evacuees were taken to the village of Nikolske, the drivers themselves were taken away for identification. Some of them are being held in pre-trial detention centers in Donetsk."
One of the 10 drivers was released, Voronin told CNN, and from him "we know that three of the missing are in Donetsk. They were interrogated with brute force, fed poorly and kept in appalling conditions. All the rest were told they have the right to keep [in detention] up to 30 days."
CNN cannot independently verify the whereabouts of the drivers or the conditions under which they are being held. Voronin said drivers left the Ukrainian-held city of Zaporizhzhia and did not drive in a single convoy.
Read more here.