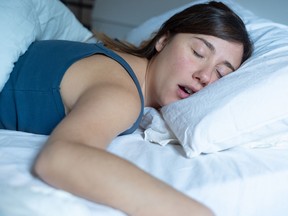 Sawing logs may be even worse for your health than previously thought.
A study says people who snore — such as those suffering from obstructive sleep apnea (OSA) — may also have an increased risk of cancer, according to the New York Post.
Your Midday Sun
From our newsroom to your inbox at noon, the latest headlines, stories, opinion and photos from the Toronto Sun.
By clicking on the sign up button you consent to receive the above newsletter from Postmedia Network Inc. You may unsubscribe any time by clicking on the unsubscribe link at the bottom of our emails. Postmedia Network Inc. | 365 Bloor Street East, Toronto, Ontario, M4W 3L4 | 416-383-2300
Presented by Swedish experts at a medical conference in Barcelona on Monday, the study found those who are overweight or obese, have diabetes, smoke or drink a lot of alcohol are most at risk.
Symptons of OSA, which is an obstruction of people's airways when they sleep, are loud snoring, gasping and daytime sleepiness as it can cause a lack of oxygen.
Dr. Andreas Palm, of Uppsala University in Sweden, said in a press release that while it's known already that patients with OSA have an increased risk of cancer "it has not been clear whether or not this is due to the OSA itself or to related risk factors for cancer, such as obesity, cardiometabolic disease and lifestyle factors. Our findings show that oxygen deprivation due to OSA is independently associated with cancer."
However, researchers, who looked at 62,811 patients five years before they started treatment for OSA, said the study can't show OSA causes cancer — only that it is associated with it.
Recommended video
We apologize, but this video has failed to load.
Lifestyle factors such as physical activity and food preferences were not accounted for, and more research is planned.
"The association between OSA and cancer is less well established than the link with diseases of the heart and blood vessels, insulin resistance, diabetes and fatty liver disease," Palm said in the press release.
"Therefore, more research is needed, and we hope our study will encourage other researchers to research this important topic."
For more health news and content around diseases, conditions, wellness, healthy living, drugs, treatments and more, head to Healthing.ca – a member of the Postmedia Network.