Whether we play at a social or elite level, most of us have had a sporting injury. MQ Health Sports and Exercise Physiotherapist Chris Wynne explains how to recover from injuries and prevent them from happening.
The type of injuries athletes suffer from depends largely on the sport or activity they participate in and the area of the body it puts stress on.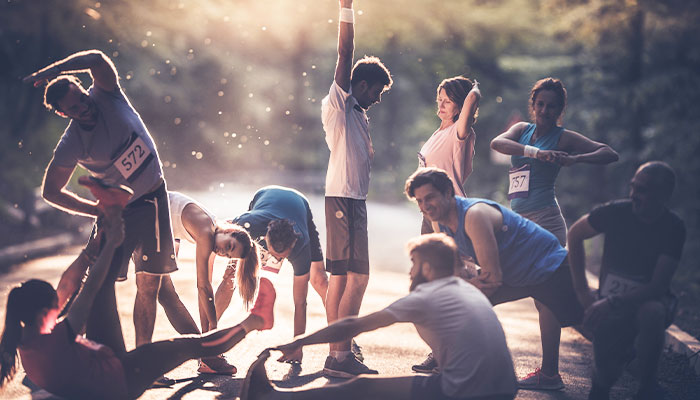 Be prepared: The time you spend getting strong is as important as the time you spend on the field or track or in the pool, says Macquarie physiotherapist Chris Wynne.
Swimmers or throwers are more likely to end up with shoulder tendinopathies, a type of overuse injury that causes tendon pain and irritability. In runners, we will typically see lower limb overuse injuries like tendinopathies or stress fractures.
People taking part in sports that involve kicking or frequent changes of direction, like football or basketball, are more likely to develop hip and groin injuries or muscle strains. Full contact and combat sports result in more concussions, and traumatic injuries like fractures and dislocations.
Many sporting injuries happen because of a rapid increase in workload: people simply go too hard or too fast in training. Muscle fatigue or weakness can also be an important factor.
Dealing with an injury
If you are injured, the management of the injury will depend on how severe it is. A traumatic injury may require imaging, like an x-ray or scan, and some form of immobilisation to protect the injured area. Muscle strains and ligament sprains often don't require a lot of rest, and in fact may recover quicker with some early gentle activity and movement of the affected joint.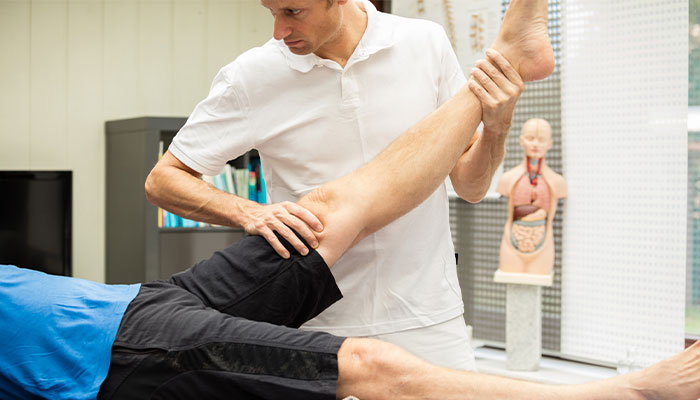 Hands-on help: The management of an injury depends on how severe it is, and your physiotherapist can help guide you through your recovery.
While most people will be familiar with the RICE process for managing soft tissue injuries (Rest, Ice, Compression, Elevation), you could instead try some PEACE and LOVE: Protect by avoiding activities that increase pain in the first few days, Elevate, Avoid anti-inflammatory medication, Compress, and Education regarding appropriate treatments; then Load progressively, be Optimistic about your recovery, include cardioVascular exercise to improve blood flow, and Exercise.
After injury, it is very important to ease back into your chosen sport through low-impact exercise.
Icing the area can be useful in helping to reduce the initial post-injury pain. Your physiotherapist can help to guide you through appropriate exercise progressions and rehabilitation programs to allow your body to recover.
After injury, it is very important to ease back into your chosen sport through low-impact exercise. You will have lost condition, and you risk further damage if you try to return to your previous level of activity before your body is ready.
Reducing your chances of injury
Training
Footballers who complete less than 80 per cent of pre-season training sessions have a nearly double the injury risk of those who complete 80 per cent or more. Our bodies are incredibly good at adapting to what we ask of them, and they can be extremely robust and resilient so long as we give them the right preparation.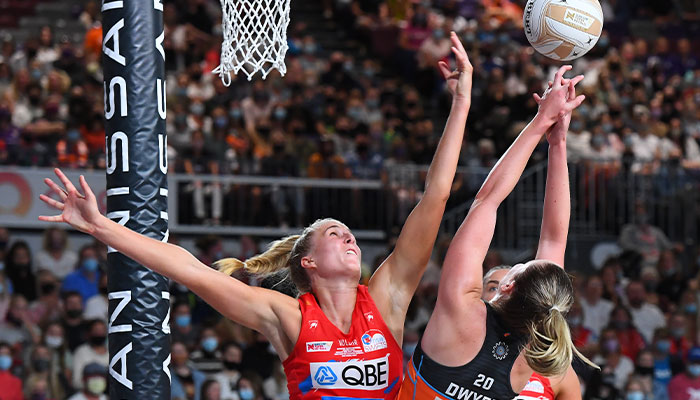 Aiming high: Netball Australia has developed the KNEE program, an example of targeted preparation aimed at reducing injury risk.
The best way to reduce the likelihood of being injured is to make sure your body is well prepared to participate in your chosen sport, but remember this happens well before game day.
Think of your sport as your personal marathon: you wouldn't try to run 42km without having built up your fitness gradually. It takes a combination of practice, strength work and conditioning to prepare well and reduce the likelihood of injury, so the time you spend getting strong is as important as the time you spend on the field or track or in the pool.
Don't concentrate only on what you think of as the primary muscles for your sport, like legs for runners and shoulders for swimmers. Targeting multiple body parts, like your trunk and core muscles, may also help to make your body more resilient, and improve your overall performance.
Warm-up
On game day, a good warm-up is important, and it is as much about preparing your brain for the task ahead as it is preparing your body. In years gone by, lots of long-hold stretching pre-game was the primary warm-up, and we often hear people in the clinic suggest that maybe they "didn't stretch enough" before an injury.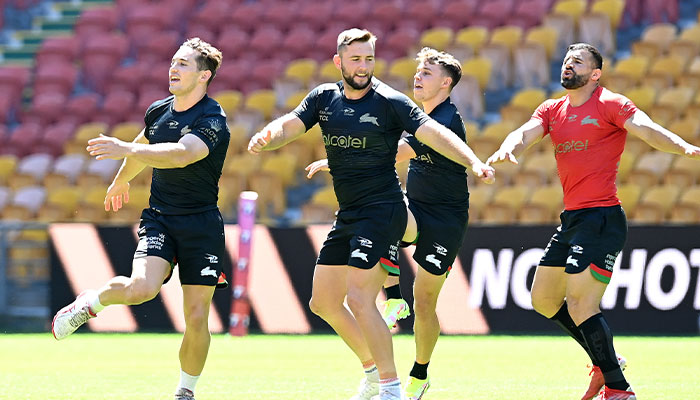 Getting warmer: Sydney Rabbitohs in a training session ahead of October's NRL Grand Final … if we give our bodies the right preparation, they can be very robust, says Chris Wynne.
However, evidence suggests prolonged stretching offers very little benefit in terms of injury prevention; in fact, there is some evidence to suggest it may be detrimental to sprint and power performance in the short term.
How you warm up largely depends on the sport or activity and the level at which you're playing. The higher its intensity, the more intense the demand will be on your muscles and the longer you should spend on the warm-up. It is important to include activities that will elevate your heart rate, engage all the muscles required for the sport, and start to mimic the movements and skills that you will need to perform.
A good example of this type of targeted preparation is the FIFA 11+ program. It includes running, agility, jumping, landing, kicking, and strengthening work, and there is good evidence to suggest it can reduce the injury risk in soccer players by up to 30 per cent.
Netball Australia has developed a similar program called the KNEE program based on the same principles, but you can apply the principles to any sport you choose to participate in.
In general, if your sport of choice involves a lot of throwing, like cricket, the best thing to do is start with short, low-intensity throws, progressively increasing the distance or speed before your game.
For running, spend at least 10 minutes and concentrate on exercises that will loosen your leg muscles, like walking, skipping, jumping or high-knee running. Swimmers could start by doing kicking or arm pulls before they move into their main set.
Recovery
Recovery plays an important role in reducing the risk of injury by allowing the body to adapt and become more resilient. While there are a lot of gadgets advertised to assist in sports recovery, they really are only the icing on the cake.
The main things any athlete should put their effort into for recovery are to eat a nutritious meal, get enough sleep, and rehydrate.
While some people may find benefit in a post-exercise cool-down, there is very little evidence to suggest that this improves recovery. It can assist in recovery of lactate in the blood but not in the muscle tissue, and most evidence indicates it does not significantly reduce muscle soreness or damage.
To learn more about sporting injuries and their prevention and management, join MQ Health for a free webinar on 15 December 2021.
Chris Wynne is a Sports and Exercise Physiotherapist and the Lead Physiotherapist, Outpatient Services at MQ Health Physiotherapy
/Public Release. This material from the originating organization/author(s) may be of a point-in-time nature, edited for clarity, style and length. The views and opinions expressed are those of the author(s).View in full here.