This story begins with a bored 11-years old school boy. He was so disappointed with his teachers' education making him memorize things from textbooks instead of providing students with an opportunity to do something with their own hands. He desperately wanted to change that so he started making electronics by himself.
His father, an engineer, helped the boy find a makerspace, where they would meet and build different robots and electronics together.
The boy started creating some simple gadgets, coding and going to competitions. He felt the happiness to work on something for hours, and when you flip the switch, it turns on. That's when his idea was born – to help others experience the joy of creation.
At 18, Albert Gajsak founded his company about DIY electronics CircuitMess. The company's STEM education kits offer a hands-on learning experience in both hardware and software.
Today, CircuitMess is a team of 23 young individuals who are working on developing cool gadgets that teach kids about technology, programming and electronics. Their goal is to bring these subjects to the crowd in a fun and interesting way.
Five years after its founding, CircuitMess has sold over 72,000 STEM education kits to over 32,000 customers all over the world. Currently, they're collaborating with Warner Bros. to develop CircuitMess Batmobile™. At the same time, they're launching a new educational DIY kit every few months.
The Recursive met with Albert Gajsak, CEO and co-founder of CircuitMess to explore his story. Find out how a 5th-grader with a vision bootstrapped a profitable business out of his school boredom and managed to catch the attention of kids, parents, and teachers from all over the world. In the interview below, he shares insights and learnings on his road – from starting a company from scratch to the opportunities to transform education today.
The Recursive: You were 18 when you started CircuitMess. How did you come up with the idea of creating an edtech startup so young and in this particular niche?
Albert Gajsak: It all began when I was 11 years old and started making electronics. I started doing it because I was so disappointed by the fact that in our school, they were giving us books and we had to memorize things from them, but we didn't have an opportunity to do anything with our own hands. I desperately wanted to change that. My father is an engineer so he gave me the motivation to do something with my own hands and create. He helped me find this place, it was like a makerspace, in my little hometown in Croatia, where we met and we had to build different robots and electronics. I started doing some simple gadgets, started coding, and going to competitions and I was so happy because I have finally made something with my own two hands. I felt this happiness when you work on something for hours, then you flip the switch, and it turns on. At one point I thought that maybe I could transfer this knowledge and this feeling of happiness and satisfaction from building something to other people as well.
I started doing workshops for other children where I was teaching them how to make electronics. Then I came up with this game console, which was a small gadget for playing video games that can be assembled by the user and I decided to do a Kickstarter campaign.
Kickstarter is a crowdfunding platform where you can put your idea and you can receive pre-orders from people who like your idea and get funding support for it. It was a huge thing then, I was still in school, I put this on Kickstarter, and it exploded generating around $100Kin sales with a $0 ads budget.
It was quite successful and because of that, I quit college to pursue my dream of becoming an entrepreneur. When I was starting with this first Kickstarter campaign, I got in touch with a serial entrepreneur, Tomislav Car, who has been building businesses since he was 19. He became my co-founder and my first mentor/investor as someone who's going to help me through this hobby of mine. And that's how it all started.
What have been the key challenges in front of you as a startup founder and how did you overcome them?
I had to learn quite a lot through these years. I knew how to code and how to express myself and create a thoughtful product because it's something that I really enjoyed doing. But I didn't know anything about business, economics, or finances, there was quite a lot I had to build on. I'd say I'm still learning to this day, I'm learning how to lead a profitable business and how to grow it further.
The first big challenge that I had is finding people that are going to work with me. I would say that this challenge doesn't go away – you just become better at it but it's an ongoing issue.
I had two challenges when it came to hiring people. The first was psychological – I wanted to do everything by myself, I didn't want to share as I didn't really trust other people. The second issue was that we had no money, we were a bootstrapped business and nobody knew about us. We had a tough time finding people. It's still not easy. However with time we became more famous, we accumulated more money, and we became better at hiring.
Another big challenge was servicing a lot of customers. I started this company as a hobby and as our sales grew, some more challenges appeared. We had to support those customers, we had to take care of the website support and the customers, how they're interacting with our products. This allowed us to explore and it pushed us to learn all of these new things about marketing and customer support, how to make the most out of your customers to help the company develop and create a long-lasting relationship with them. All this forced us to create a subscription model that we launched last year in January because we figured out that we want to focus on establishing long-lasting relationships with our customers.
What is the unique value proposition of CircuitMess developing DIY STEM education kits for kids, parents, and customers?
There are several value propositions of Circuitmess. We're trying to build something unique, never seen on the market before. Something that's going to fire the new generation of engineers through STEM education. But the whole point is bringing technology to children in a fun and interesting way. Let me give you an example. When we were coming up with our subscription model, we had a list of ideas that we wanted to cover and teach children about. One of those ideas was music. What we did, instead of imagining what children would like about music, we went ahead and asked the kids. All the kids told us that they want to build DJ mix tables and they think this is fun, so we created a small DJ mix table that they can build themselves. We're trying to put ourselves in the shoes of the children and create something that's unique and is not going to be boring.
I'm solving the problem of my younger self because I was so bored by all of the school curriculum that I went through as a child. I could see that all those toys, books, and learning materials for kids were so unimaginably boring. You can really see that they were created by boring adults. We're trying to avoid that, we're aiming to create something that's going to be a good toy in the first place but also something that's educational.
The second thing we have as a value proposition is that we're building a long-lasting relationship with our customers. We're not just trying to sell them a one-time thing, some kind of a cheap toy, and then just move on. There was this research a few years ago that said that kids get an average of 495 toys from age zero to age 14, and on average they throw away a toy in 30 days. This research was made for America and Europe, but you can see a problem here. Children have many toys and they don't care about them. We're trying to change that. We're trying to create meaningful play times where children are going to go through a series of tasks for completing our DIY STEM education kits. We're trying to create something that follows them from early childhood to adulthood. That's why we're launching a new subscription line this year that's going to be for younger children. The idea is to segment our audience by age, and to create something that's going to follow the development of the child.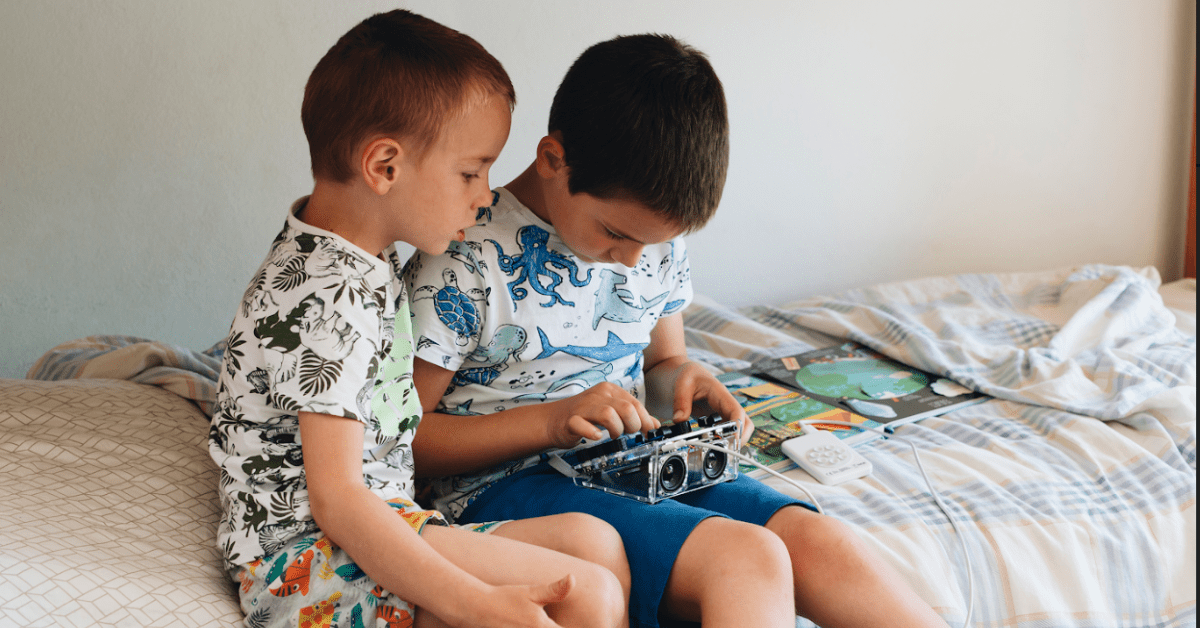 You have announced a partnership with Warner Bros for developing a DIY Batmobile. Tell us a bit more about what this collaboration means, how did you land on this opportunity and when will we see the first rolling bats?
The idea came from the fact that we wanted to draw our audience to the core value and idea behind Circuitmess – we want to teach kids about STEM education, technology, and science in a fun way. We were thinking about how to appeal to children further and we came up with the idea came to connect our brand with a popular superhero character.
That's something that kids are used to. We juggled between different characters and we thought of building something that's going to be highly related to parents as well. We chose Batman as he symbolizes ingenuity, he doesn't have any superpowers and he uses gadgets to solve crime.
He's evergreen. He's been watched by kids nowadays, by a few generations before them and also by their parents. We created this concept of a Batmobile and then we went ahead and tried to pitch it to Warner Bros. We had to be a bit creative when trying to find them. It's been a lengthy process but we got in touch with the representative of Warner Bros for the Adriatic region. She helped us to grab the attention of some high-level executives in order to give us the opportunity to create this product. We launched this Kickstarter campaign last year in December. We have sold around 480K units so far, and we're going to deliver them into people's mailboxes this year in October. After that, we will put them on our webshop but also in other stores.
What are CircuitMess' business model and go-to-market strategy? Have you been backed by VCs along with your Kickstarter campaigns?
The main business model that we're doing right now is a subscription where customers subscribe and they get a new product every three months. When we did that, we saw that when we started caring about our customers more, the lifetime value increased significantly. It went from $65 to $400+. We managed to reach $1,5M in revenue, and we've sold 55K products, mostly outside Croatia in markets of the US, UK, Canada, and Australia.
We're actually the only company in the whole Adriatic region that has managed to get а global licensing deal with Warner Bros. Companies usually get some regional or local licensing deals. We wanted to go global because this is something that we are targeting, most of our customers come outside of Croatia.
So far, we've been purely bootstrapped. We have had this first investor but he was like a co-founder so we have mainly been financed from our own revenue in the past five years. We did get some grants from the government, but from day one, we have been profitable. Kickstarter helped us quite a lot and we didn't give away any equity. It was product-based crowdfunding – you put the product out there, and people pre-order it. That's why we had four Kickstarter campaigns and have raised more than $1.5 million there because you get the money upfront to build a product and then you deliver it.  This way we have managed to grow the business every single year.
This September we're planning to close our first VC round. We have made some very significant progress and after coming up with a subscription model, we saw that we have gotten recurring revenues and really encouraging numbers that led me to believe that we can scale if we had some more extra capital. We have been growing 100% every year on average so far, but we can grow even faster and that's why we're closing this financing round right now.
The edtech sector has seen rapid and long-awaited transformation after Covid. In your opinion, what is the importance of education and providing more creative ways for children to play and have fun while educating themselves?
I believe that education is the backbone of our society. But on the other hand, something is clearly broken with our educational system. That's why I started doing this. Because when I talked to kids, they were uninterested and everything was boring to them, they were not satisfied. When I talked to teachers in every EU country, they were complaining about this rigorous system, which doesn't allow them to do their job right. And then when I talked to the parents, they were also not really sure about what to do. Some parents fight to homeschool their children but they don't know where to start.
You begin to wonder how come we have managed to solve so many issues as a society but education is still something that performs so poorly and it's so centered on the individual's motivation. I'd say it also depends on the motivation of the students, the motivation of the parents, and on the motivation of the teachers.
Covid definitely was a big shock because all of a sudden, things changed overnight, not just for education but for every single thing in the world. Education was suffering tremendously, I would say that this first year of Covid was abysmal for education. No teacher knew what to do, parents were burnt out because they had to work from home and now they had children studying from home, children didn't know how to do that kind of studying… I'd say it was a lost year. But then people figured out that they need to evolve.
Covid accelerated this need for changes in education. It started this movement where education started being individualized and I think that's the future of education. There really isn't a one size fits all model for educating children.
Kids saw that learning from home isn't really that much fun. Because we as humans aren't really adapted to living in some kind of a two-dimensional space. That's what you do when you're looking at your phones or laptops, and tablets and trying to learn from them. That's why we at Circuitmess saw huge growth after Covid because parents are trying to find some things to do with their kids at home and they were seeking for projects.
We saw some really good opportunities and some really good feedback as they've all of a sudden found something that provides some hands-on activities for their kids so they don't really stare at a screen all the time.  The important thing we need to focus on is finding new ways how to educate kids because they're the future. We need to open doors for them rather than put them into tiny boxes to learn from.
What is your vision for the future of the company and the mission you want to see accomplished with CircuitMess?
Our vision stayed the same from day one to now. We want to educate as many children as possible on STEM education and turn them into future engineers and scientists. We want to be the enabler, to show them that they can design stuff, that they can create a technology feature. The problem that we're solving is that less and less people actually know how to design technology. I was reading this research that said that less than 1% of the world's population actually has the opportunity and knowledge to create new technology. But everyone on the planet is using some sort of technology. And that's a problem because if you remember, around 30 years back, everyone was sort of like a handyman, people were fixing their own CDs, their own phones, the old ones, they were fixing the electric circuit in their household. But then, through the time, all of those devices were not repaired anymore and people know less and less about the technology underneath them. We want to change that.
We want to enable a new generation of thinkers equipped with knowledge for the technology of tomorrow. We see ourselves as becoming the leader in this new way of educating kids. If I had to simplify the vision I would say that we are trying to become the LEGO of STEM education, someone who's going to become a household name for future education, and that's going to be on toy shelves all around the world. That's the picture I see.
With the first school day just passed or just around the corner for some, make sure to check The Recursive's list with 14 EdTechs Helping Students Prepare For The New School Year. Read more about Labbox from Kosovo, an edtech startup teaching kids engineering.