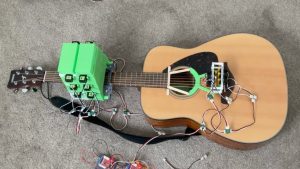 The Arduino team flagged this one on twitter recently – it's a device that has been programmed to play Oasis's Wonderwall on an acoustic guitar
It's actually sourced from reddit, with its creator being a redditor called MegCell. You can listen to it play in a video on the original post.
As one commenter points out, the sound would be more resonant if the bank of automated pluckers was cited over the sound chamber. But obviously it's easier to locate the device over the bridge, without serious modifications to the guitar itself.
It's a cool, compact system, but unfortunately no maker details are shared (it is posted in the Arduino subreddit, which indicates its provenance)…