Bespoke suits, trompe-l'oeil frescoes, and Torlonia marbles.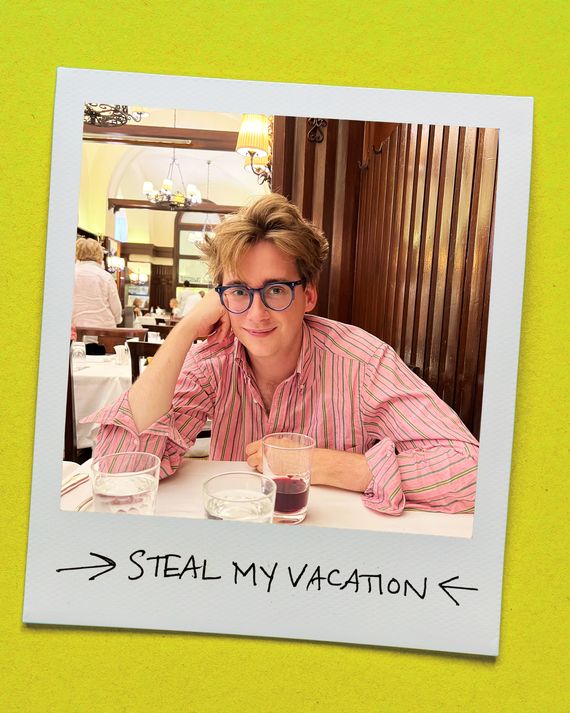 Photo-Illustration: The Strategist; Photo: Courtesy of Luke Edward Hal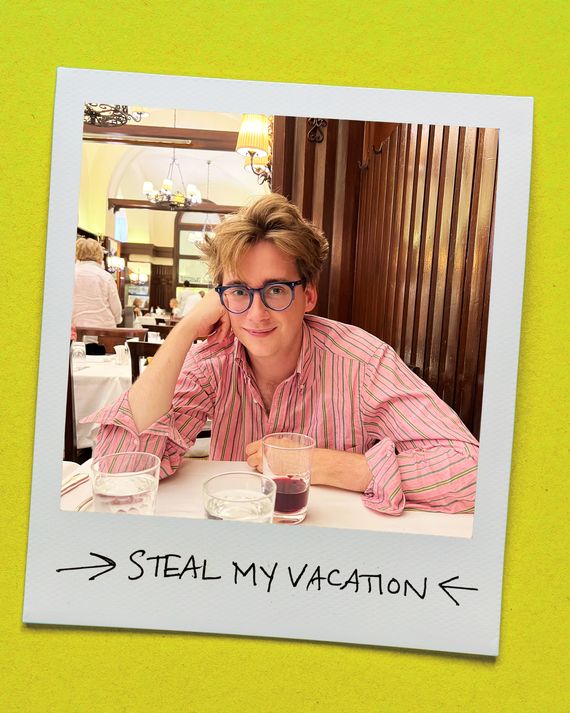 Photo-Illustration: The Strategist; Photo: Courtesy of Luke Edward Hal
Everyone knows that person who spends weeks sniffing around travel blogs, going deep into Tripadvisor rabbit holes, collecting Google docs from friends of friends, and creating A Beautiful Mind–style spreadsheets to come up with the best vacations/itineraries possible. In this recurring series, we find those people who've done all the work for you and have them walk us through a particularly wonderful, especially well-thought-out vacation they took that you can actually steal.
British artist and interior designer Luke Edward Hall first visited Rome to celebrate his 18th birthday. "I still have a Michelangelo statue I bought from a tourist shop," he says. Since then, Hall has returned five times for long-weekend getaways from London, all to drink in its unbridled opulence and find inspiration for his work, which often invokes a certain Grand Tour–era appreciation for Greco-Roman art. "Rome is on a plate," says Hall. "All of the beauty is right there to see. It's so over-the-top." Here, he shares his favorite Caravaggio paintings, bespoke suiting shop, and old-fashioned trattorias.
Try to avoid Rome in the summer, when it's too hot and crowded. In autumn or spring, it's still warm in the day; you still have brilliant blue skies and can wear a shirt and a jacket. When you land at Rome-Fiumicino (it's easiest from London on British Airways), just take a cab from the airport straight to the hotel. I like staying at Hotel Locarno (Via della Penna, 22; from $325) near Piazza del Popolo, one of my favorite squares in Rome. I like grand old hotels with interiors that feel like they're connected to a place. Those big luxury hotels often feel like they could be anywhere. Locarno's rooms have antiques and lots of Liberty fabrics and lamps. The bathrooms are charming but with proper showers — you don't want a little European shower when you're on vacation.
I love a classic trattoria. Ristorante Nino (Via Borgognona, 11) is a nice place to go for lunch. It's by the Spanish Steps, an easy walk from the hotel. In big Italian cities, you can very easily find yourself in a tourist trap. But Ristorante Nino has been there since 1934 and is not for tourists. The menu is Tuscan with very old-fashioned dishes. It looks a bit like a train carriage: wood-paneled walls, terrazzo floors, white tablecloths, wall lights with lampshades, waiters in white jackets in bow ties. For something simple, my partner and I shared crostini and I had pasta and tiramisu.
We build our days around eating. Da Enzo (Via Ennio Quirino Visconti, 39) in Trastevere, the bohemian cobblestone-street neighborhood west of the Tiber River, is great for dinner. If you can, get there early because it's a small trattoria and it gets busy. I love the checkered tablecloths. I have to eat pasta in Italy and I can never resist tiramisu, so there isn't much space for anything else in between. I never really do a fish or meat course.
Start your day at the Capitoline Museums (Piazza del Campidoglio, 1), a haven of Roman sculpture. It's best to book tickets in advance. We went to see the Torlonia marbles from the Torlonia collection, which is the largest private collection of classical Greek and Roman marbles, and it's on display for the public for the first time until September 1, 2022. It's fab. There are amazing ancient statues — particularly the bronze and painted plaster statue of Germanicus — and color combinations on the walls that I love as well. Plus, you have a view of the Forum.
Go to lunch at Piperno Ristorante Dal 1860 (Via Monte dè Cenci, 9) in Trastevere. It has an amazing little terrace and a very beautiful, dark, handsome interior as well. Eat outside. You're on a lovely little piazza with no traffic. It's good for the carciofo alla giudìa, a local take on artichokes.
I always look for antiques in Rome — little pieces of classical treasure, like a bit of ocean coral, an oil painting, a cameo. Last time I was there, we got lost on our way to dinner and found this amazing store around the corner from Via dei Coronari. Most Roman antique shops have weird hours and grumpy owners, but this was a lovely experience. I'm very sorry that I don't have the name of the shop, but this entire street is known for its antique shops, so it's worth heading to Via dei Coronari and spending an afternoon going from shop to shop. This particular shop has one room after another, stuffed with beautiful things. I bought this little red marble column that the owner said was Roman era, but you never know. For vintage clothing, there is a place called Omero e Cecilia (Via del Governo Vecchio, 110) only a few blocks away.
Go out for drinks before dinner in the Piazza del Popolo, right behind the hotel. There are four cafés in the square. Any of them are fine, but there's one that we love called Canova. I like being able to sit out and watch the world pass you by. We'll sit there and have a Negroni or two and then head out for a seafood dinner at Pierluigi (Piazza de' Ricci, 144). It has a huge terrace and it's a bit smart. After eating at a trattoria the day before, it's nice to mix in something more elevated. Eat outside on the terrace and order the gran crudo, which is fresh raw fish and delicious. After that, get an ice cream from Gelateria dei Gracchi (Via dei Gracchi, 272), a no-frills place with excellent flavors. I tend to go for hazelnut, pistachio, or dark chocolate with candied orange. Then walk back to the hotel.
The best place for a coffee and pastry is Sant' Eustachio Il Caffè (Piazza di S. Eustachio, 82) — it's a famous old-fashioned place for coffee with a blue neon sign that I love. Stand at the counter and have a couple of coffees and a pastry at the bar. It's less expensive than sitting down and it's fun to watch people go in and out. Next to it, there's the San Luigi de Francesi church (Piazza di S. Luigi de' Francesi) where you will find Caravaggio's The Calling of Saint Matthew from 1599. For more Renaissance masters after that, walk 20 minutes or ride an e-scooter (there are a number of e-scooter brands with corresponding apps) to Trastevere to visit the Villa Farnesina museum (Via della Lungara, 230), which is known for its amazing murals. I'm into trompe-l'oeil painting and the museum had some really incredible painted faux fabrics in wonderful colors that you'd never find in real materials. There's a wonderful Raphael fresco that depicts the myth of Cupid and Psyche that's bordered with painted foliage, and on the first floor Baldassare Peruzzi painted the main salone with trompe-l'oeil frescoes of an open loggia with countryside views.
La Matriciana (Via del Viminale, 44) ticks all the boxes. No fuss, waiters looking smart in jackets, rustic food, pictures all over the walls. It's not designed; it's just how it's always been. They also had an amazing phone booth like something out of a Wes Anderson movie. I'd have parma ham with melon, then more pasta and tiramisu.
For bespoke tailoring, Giuliva Heritage (Via di Monserrato, 152) has a showroom where you can make an appointment. They do really beautiful ready-to-wear, but the custom experience is really special. You're able to look at special fabrics and try things on while having espresso and chocolates. The husband-and-wife owners (Gerardo and Margherita) are friends of friends and incredibly chic, friendly, and welcoming. I'd seen their clothes online but went for the first time in person this October. We are hoping to commission them to make suits for our wedding next year, so we spoke about ideas for these, but until then, we came away with new jackets (from $1,000). Mine is kind of a classic tweed jacket.
After a day of seeing art and shopping, it's nice to get a drink and dinner at the hotel. But for something a little different, I'd go to Hotel de Russie, also by Piazza del Popolo, which has a terraced garden in the back that's heaven. There's also Due Ladroni (Piazza Nicosia, 24) for an old-fashioned trattoria that's been slightly zhuzhed up. They're all kind of the same as the others — classics with tweaks, like cacio e pepe with crispy artichokes on top. I don't think brilliant Italian ingredients need to be fussed around with.
For breakfast, Caffè Greco (Via dei Condotti, 86) is just heaven because it has red damask on the walls and gilt picture frames. I love the branding. I always order the pistachio croissant. After that walk to this shop down the road called Schostal (Via della Fontanella di Borghese, 29), which is a specialized shirt-and-pajamas shop opened in 1870. I love a specialized shop. Italy seems to excel at these. The pajamas fit me well. They're kind of utilitarian: simple and always made with good fabrics like a nice crisp cotton check or stripe. There's also a wall filled with socks in colored boxes that the shopkeeper pulls out while on a ladder, just like Ollivanders in Harry Potter. They're ribbed Italian cotton and come in every color.
I love the Borghese gardens. It's nice to just wander through and then get a snack at one of the green-painted park kiosks. My favorite one has a display that's filled with plastic food with the food's name next to it, like a plastic banana split. Go from there to the Villa Borghese (Piazzale Napoleone I). Book a ticket in advance. Here it's all about the sculpture. There are Bernini statues including Apollo and Daphne. I'm a sucker for crap museum merchandise, and the last time I was here, I bought one of my favorite T-shirts that just says, "I Love Caravaggio," with no other branding, which is all you really want from a T-shirt when it's done right.
For lunch, Dal Bolognese in Piazza del Popolo is yum. You ordinarily never want to go to the ones right on the square, because they can be quite touristy, but this place is great. We were told all of the politicians go here. It's old-school with a very elegant dining room. We ordered ragout and it was delicious.
After lunch, we went to the Keats-Shelley Memorial House (Piazza di Spagna, 26), where Keats died on the Piazza di Spagna. I've always loved the Romantic poets — I'm a big fan of Keats and Byron. It has a huge collection of memorabilia, letters, manuscripts, and paintings relating to Keats, Shelley, Byron, Oscar Wilde, and others. They have a section of books there, too. That's the last thing we did before we went to the airport.
I'll pack a few jackets for light dinners out in the evenings. I love the cut of Giuliva Heritage's blazers, with their enormous lapels. I can't stand a skinny lapel.
Editor's note: Giuliva Heritage lists all prices in euros, so the price shown above is an approximate conversion to U.S. dollars.
When I'm away, I like to read novels set in or books about the place I'm visiting. The Talented Mr. Ripley is a complete classic, disturbing as it is. And, of course, I love the 1999 movie version too.
I always take a few pairs of glasses with me when I travel, because I like to switch it up a bit. Cutler and Gross do fantastic frames in great colors, like this excellent Yves Klein blue.
After a long day of sightseeing and busy streets, I'll hydrate before bed with a good face oil. Bamford is part of Daylesford, an organic farm and estate down the road from my home in the Cotswolds.
I always have a disposable camera or two kicking around at the bottom of my backpack. It's a cliché, but they do take lovely pictures with much more atmosphere than I'll get with my iPhone.
The Strategist is designed to surface the most useful, expert recommendations for things to buy across the vast e-commerce landscape. Some of our latest conquests include the best acne treatments, rolling luggage, pillows for side sleepers, natural anxiety remedies, and bath towels. We update links when possible, but note that deals can expire and all prices are subject to change.
The COVID-19 situation there: Like many countries, Italy's COVID-19 travel restrictions are in constant flux. Right now, travelers from the United States may enter Italy if they present a negative PCR or rapid test (taken within 72 hours of departure time) in addition to proof of vaccination or a doctor's note confirming recovery from COVID-19 within the past six months. This policy is currently in effect until December 15, 2021.
Luke Edward Hall's Long Weekend in Rome