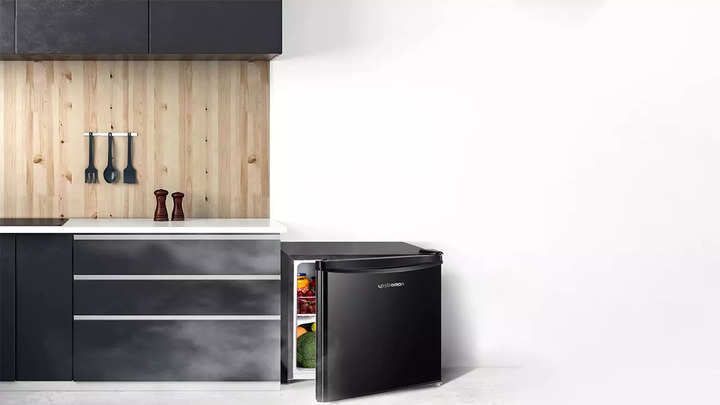 Meta Description: A mini fridge comes handy when you are setting up an outdoor kitchen or moving into a college dorm room. It's a tried and true solution for its value and reliability. Here is the top mini fridge list for keeping your food and beverages chilled wherever you are.
New grad renting a tiny apartment space, student moving into a dorm, homeowner creating a patio for outdoor parties or skin care enthusiast who likes to keep skincare on ice? The solution for all of the above is a mini fridge. Regardless of your reason for refrigeration, we recommend that you consider the environment and stay conscious about energy efficiency while choosing a mini fridge in 2022. Here are our picks:
GE GME04GLKLB: This 4.4 cu. ft. capacity ENERGY STAR® qualified mini refrigerator comes with a durability tested compressor that has been tested for extremes to deliver unmatched performance. With 3 glass shelves you are assured convenient food storage and there's 0.47 cu. ft. freezer capacity for storing small frozen convenience items.
What makes it energy efficient? This Energy Star rated mini fridge uses R600a coolant.
Liebherr UPR 513: This pull-out, undercounter refrigerator is a great option when you need to adjust the height to match the counter space. It features a variety of flexible storage options and SuperQuiet operation with its virtually silent and specially-absorbed compressors. Fully extendable compartments are mounted on telescopic rails with soft stop and there's a practical bottle shelf as well. You can rapidly cool food with the automatic SuperCool function.
What makes it energy efficient? The entire line of North American Liebherr appliances including Liebherr UPR 513 meet or exceed ENERGY STAR rating requirements. This one also features energy efficient LED lighting and Sabbath mode.
BLACK+DECKER BCRK43V: This 4.3 Cubic Foot mini fridge is perfect for storing your favorite beverages or packing away food after a late night takeaway. You'll be amazed to see how much this fridge can pack away. It comes with a reversible door and space saving flat back design. It features an adjustable thermostat control and a small footprint that makes it an ideal option for the floor, counter or just about anywhere. Pints of your favorite icecream or ready-to-eat frozen meals can be placed in the dedicated freezer section.
What makes it energy efficient? This energy star rated single door mini fridge uses R600a coolant.
Danby Designer Mini Refrigerator: When it comes to mini fridges, the Danby Designer 4.4 cu. ft. mini refrigerator checks off the majority of your boxes. Together with a convenient CanStor® beverage dispenser and maximum storage versatility, this mini fridge ensures that you have quick and easy access to your favorite drinks and food. There's a full-width independent freezer section as well.
What makes it energy efficient? This energy star rated single door mini fridge uses an environmentally friendly R600a refrigerant and consumes just 226 kWh/yr.
Ensure that you keep in mind the mini fridge size and consider the mini fridge price before you choose one of the options in the must-have convenience in extra fridge space.
FacebookTwitterLinkedin
---